Posted by Ayala Gross on Mar 10th 2021
I'm excited to share with you Bria's nursery - a labor of love and a collaboration with a lot of my favorite small and big businesses! (Everything is linked at the bottom of the post!)
A year ago, I was 8 months pregnant and Sammy and I were painting his old dresser for our new baby (which we ended up giving away in the end!). I didn't know how my house and heart would expand with baby number 2, or anything about being a mom of two! I didn't even know where we were going to put the nursery - I just assumed baby would live in our room for 2 years like Sammy had.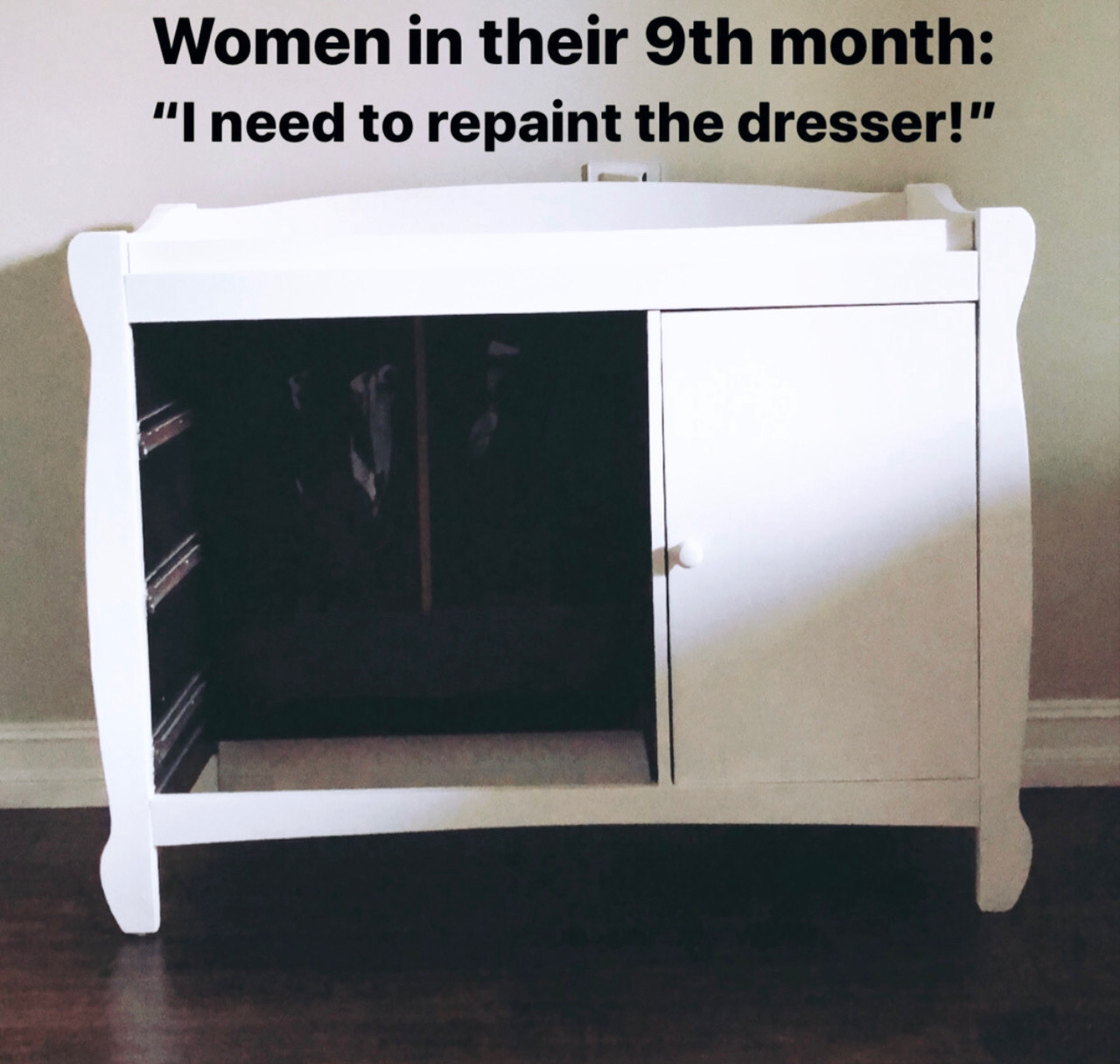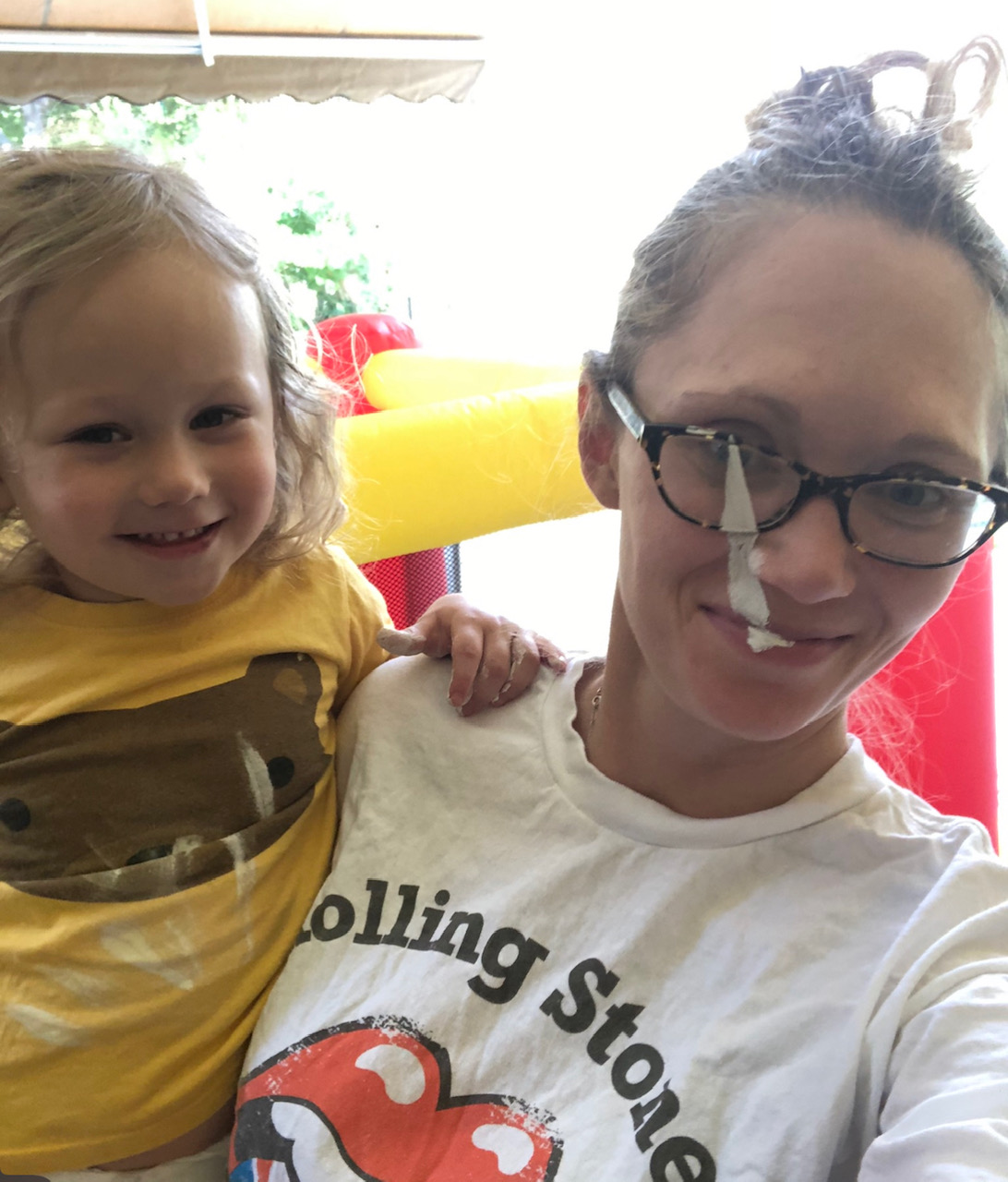 My Boca Baby home office was the only room in the house that was the right size for a second nursery, so in the back on my mind, I started a mental "mood board" and decided to transform that room one day to a pure white washed nursery, with gold accents. That was the color scheme I was strongly feeling, and I know to always trust my pregnancy intuition!
And that was the beginning of creating Bria's nursery. Soon after, Bria came to this world, bringing her joy, smile and calm presence into our home - white and warm pinks & rose golds are her aura from the moment she was born.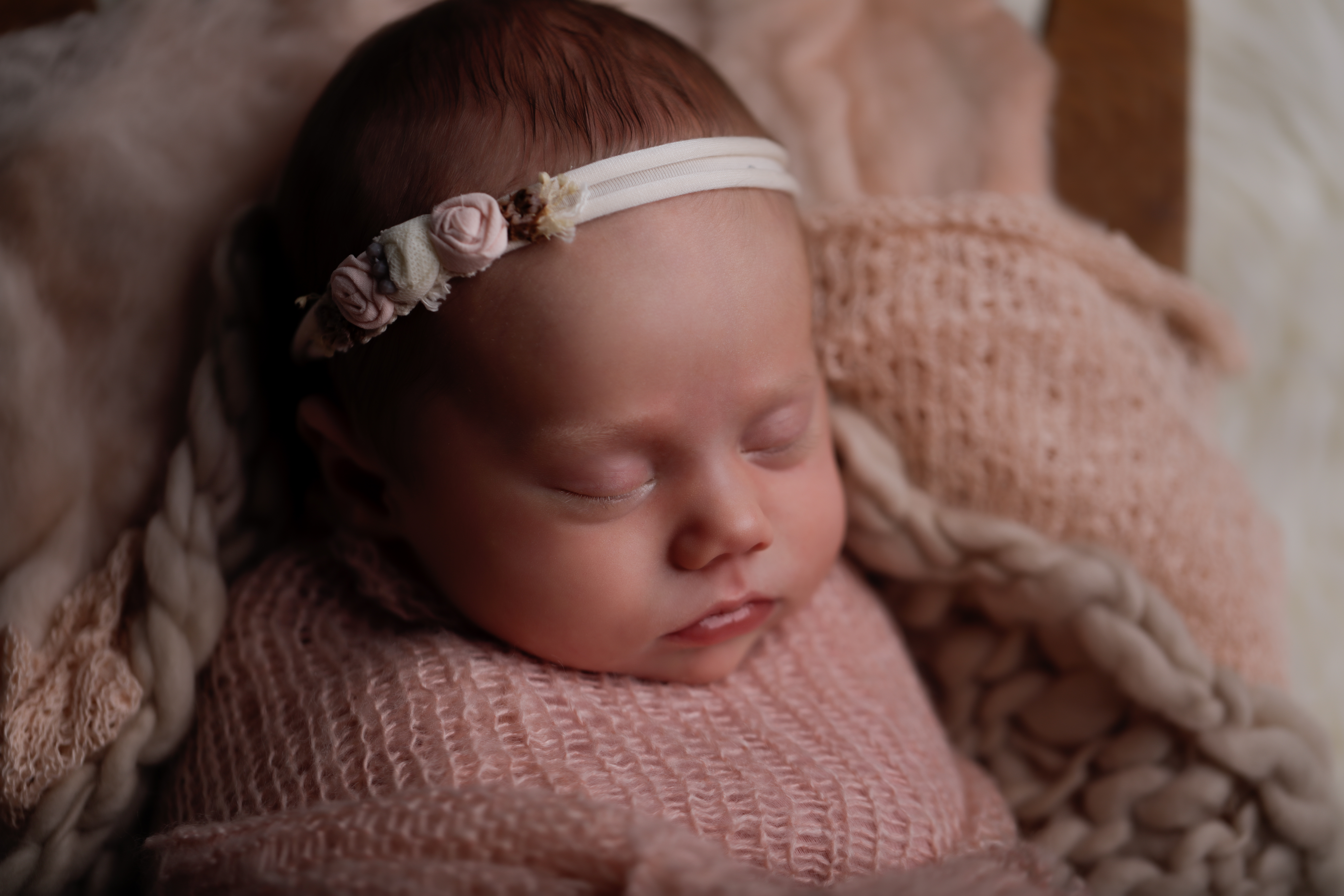 My first call was to Sara Geller – South Florida's interior decorated extraordinaire. She gracefully sashayed into my hose in her Balenciaga dress and YSL boots, like the Anna Wintour of decorators. She saw my vison and within HOURS, had sent me two mood boards, items to fill the room with and found me a painter to transform the dated walls to a modern white washed heavenly nursery.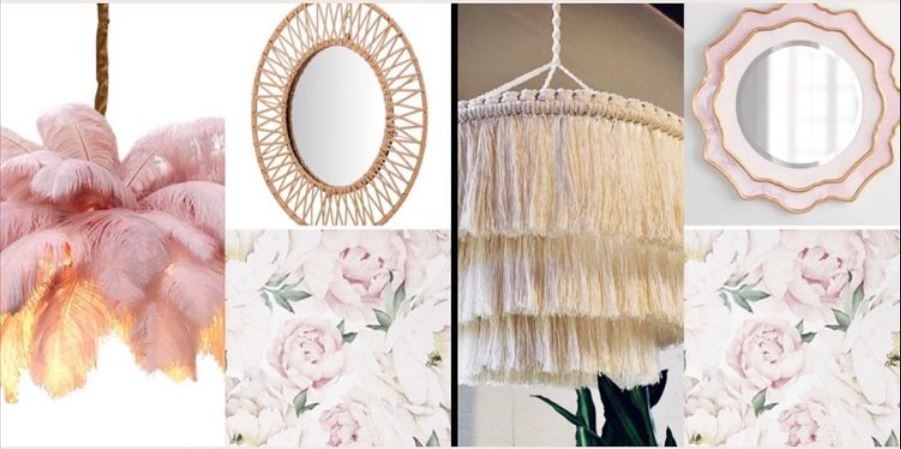 My vision to have an accent wall was the next labor of love. Sarah and I commissioned Sur La Mur to the designing of the wall behind the crib. I wanted oversized flowers and muted green leaves. We spend weeks working out the fine details of the wallpaper, texture and colors.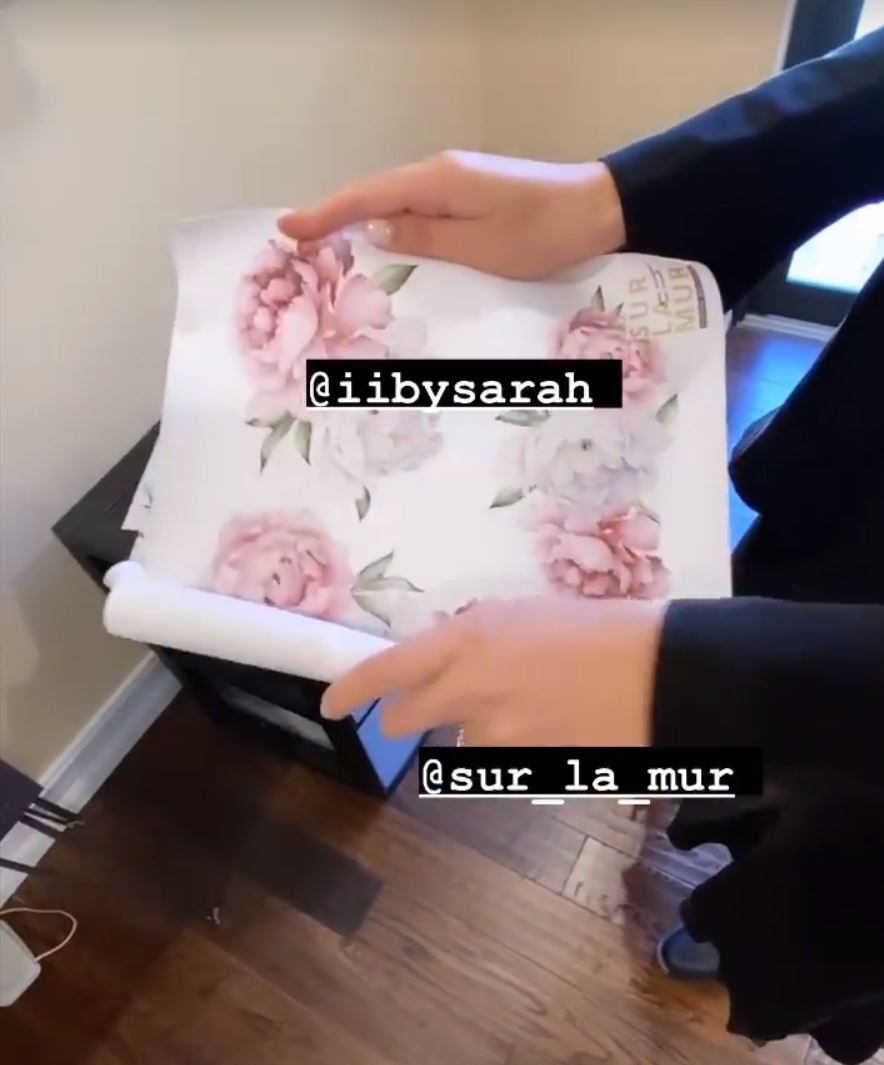 Next, Sara found me the perfect carpet! I was very indecisive as I was leaning towards a traditional oriental rug I found in light pinks and mauves, but I conceded and fell in love with Saras's geometrical boho rug. It was thin so I found the perfect non slip pad for underneath on Amazon (linked below)! It takes the rug to a new level of comfort (something I am glad I considered as I crawl on the floor together with Bria!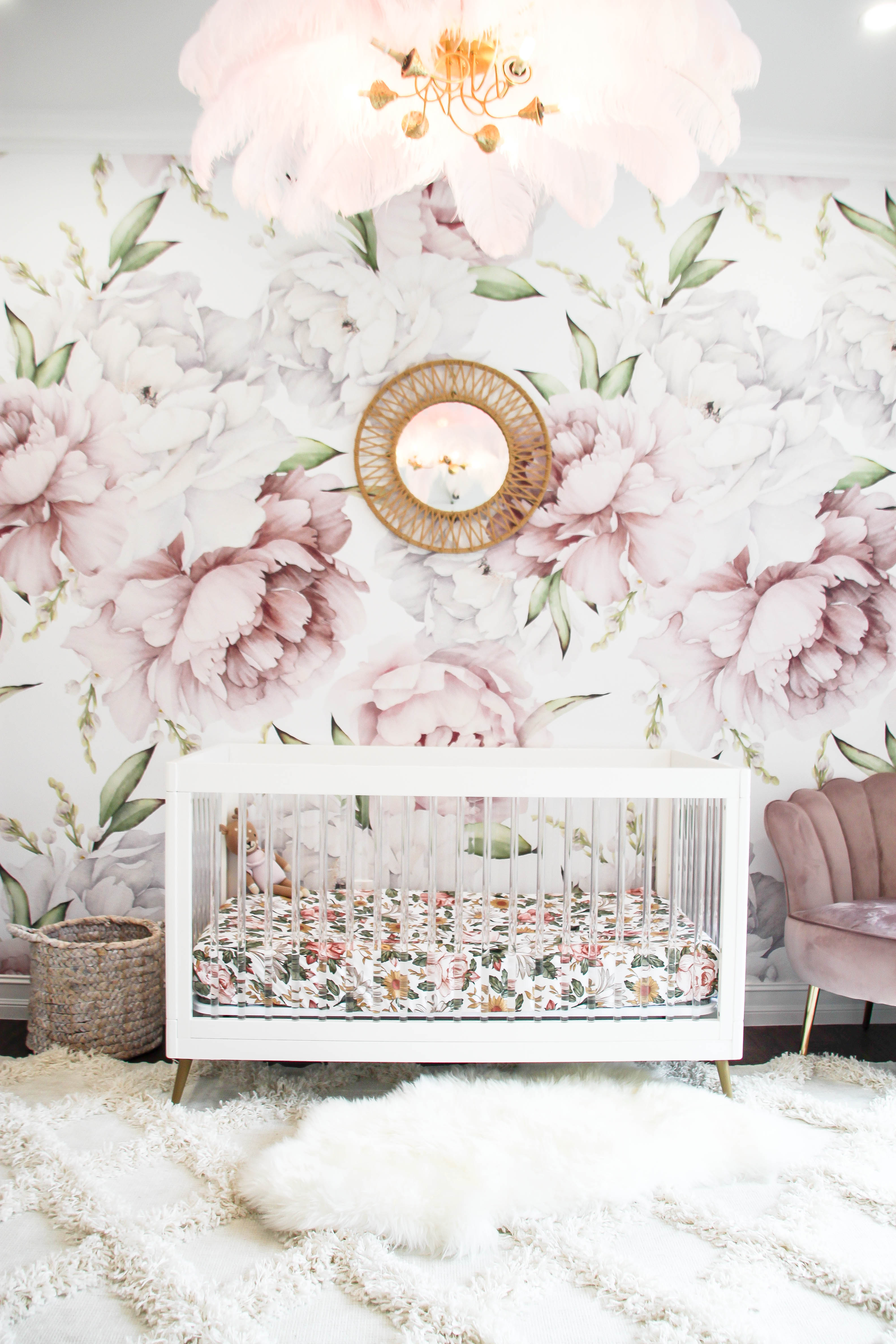 In tribute to my Australian heritage, I needed to make sure Bria had an authentic Australian sheepskin rug. I found an amazing company that had them here in the USA! My own childhood photos (and most Australian children's) have photos of a similar sheepskin rug, one most likely purchased for me as a baby gift by my grandparents from one of the local markets!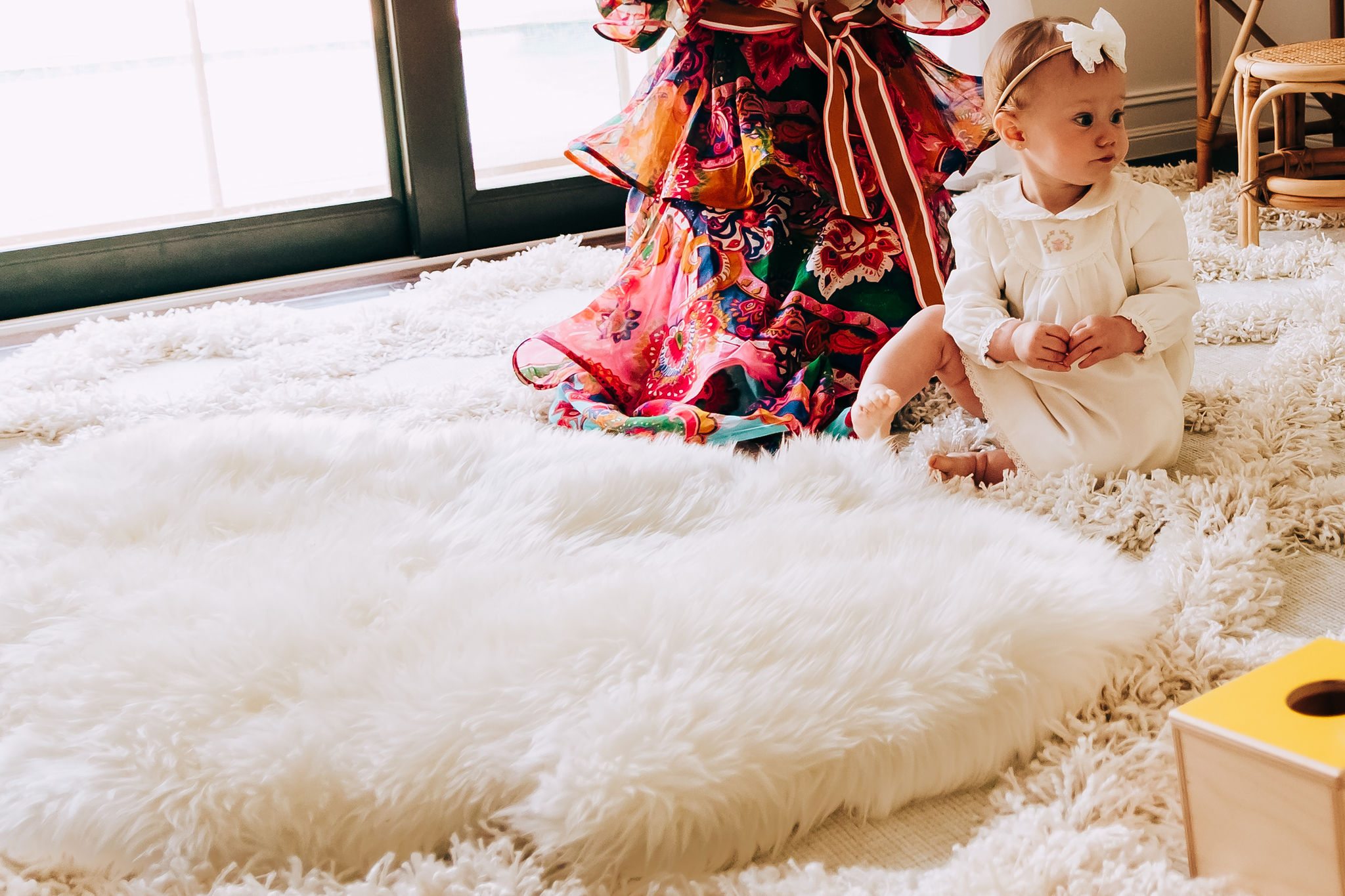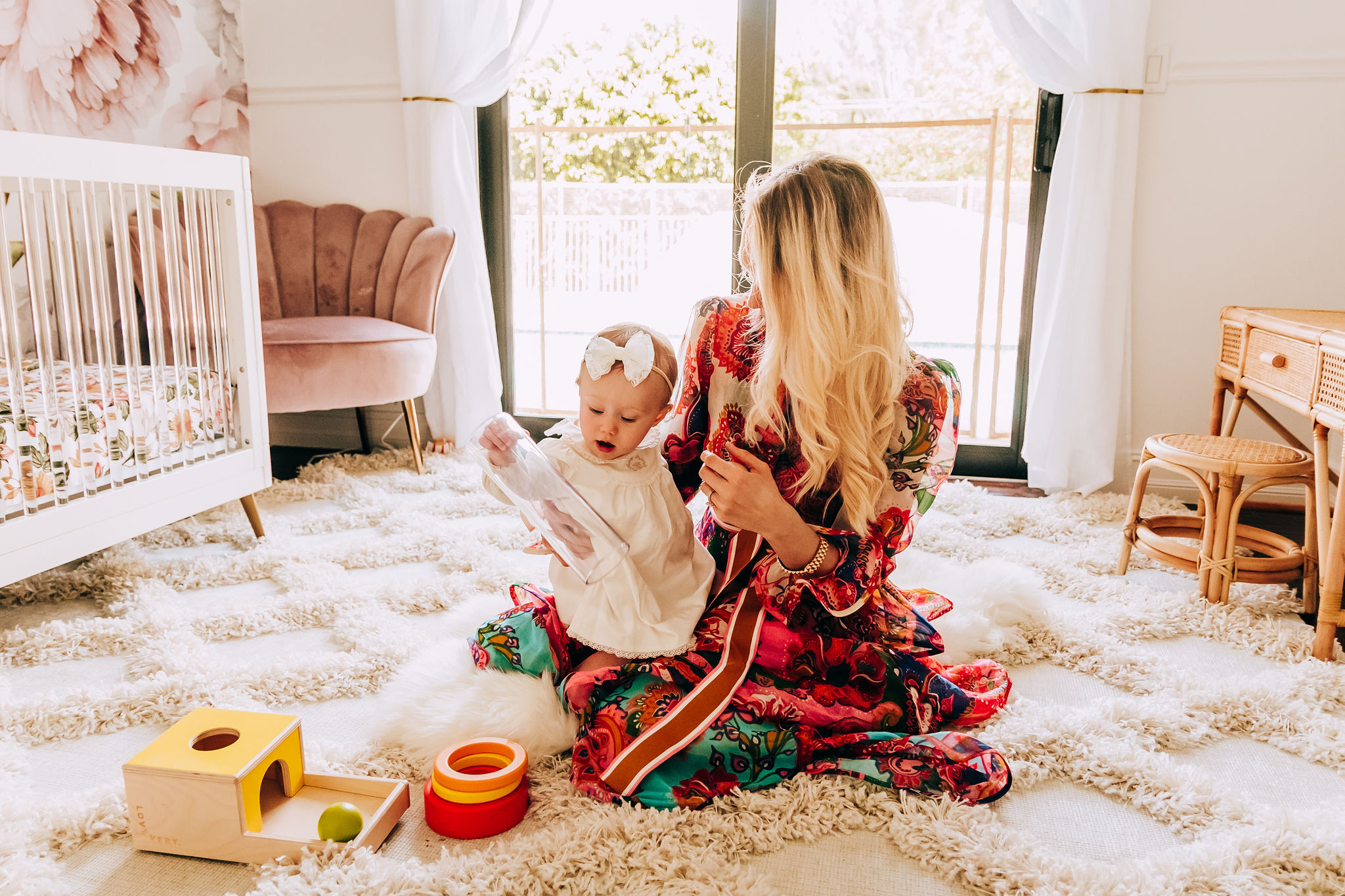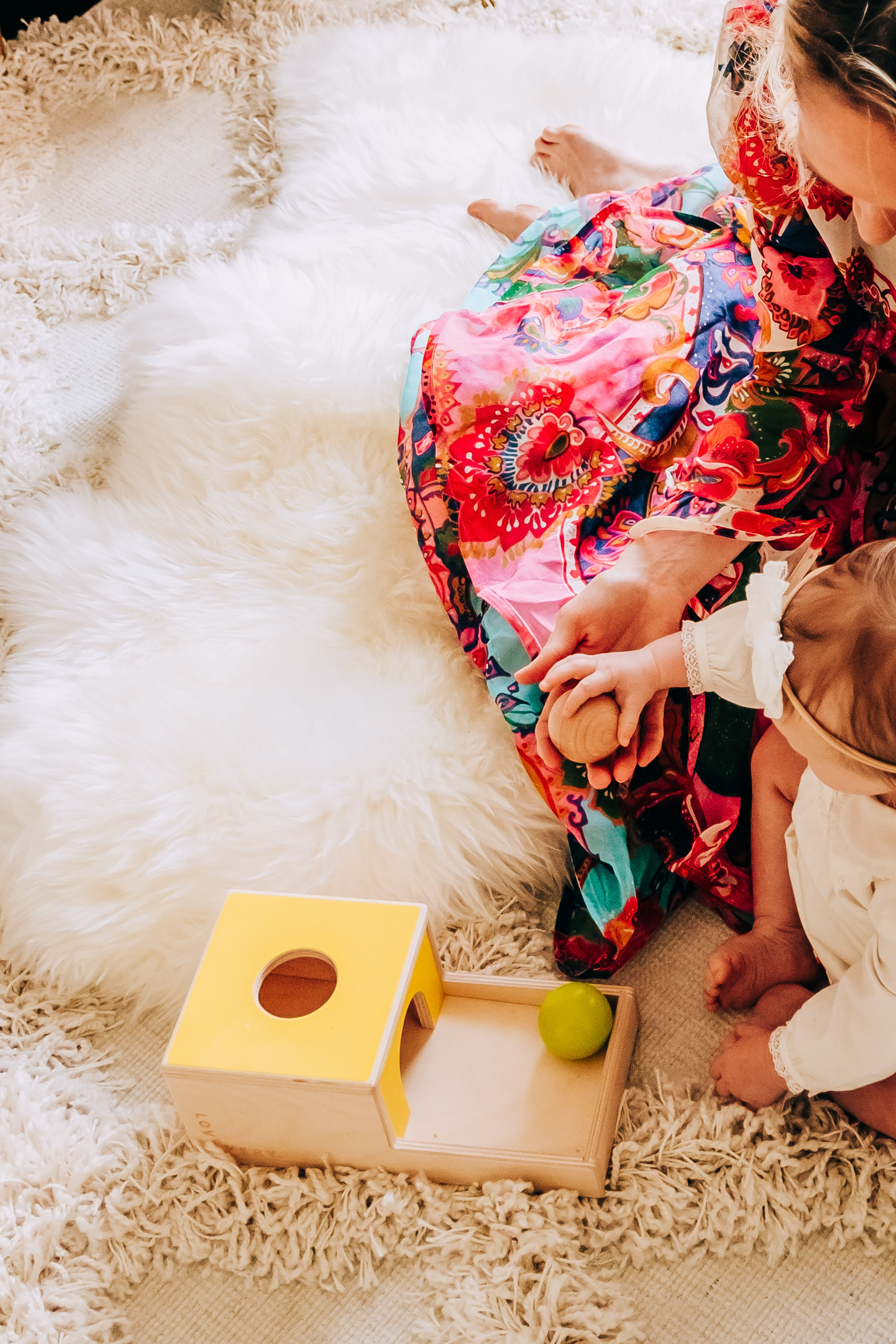 The crib I had picked out months before I started working in the nursery. An amazing find as I was on the fun for a modern fully acrylic crib that still had traditional elements to it. Bria loves her crib so much, and for a mother, there is no greater feeling than watching you child enjoy sleeping in her own crib!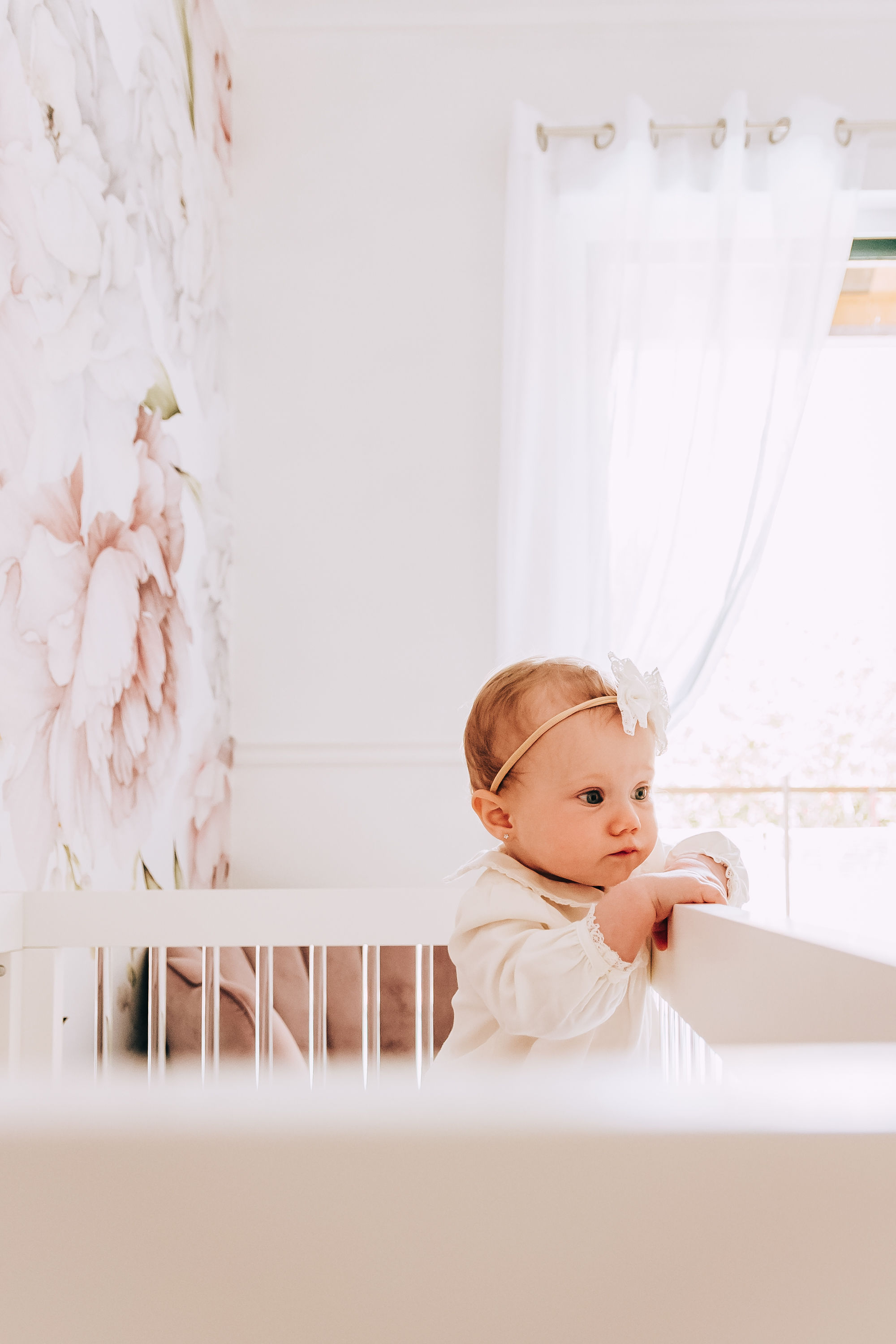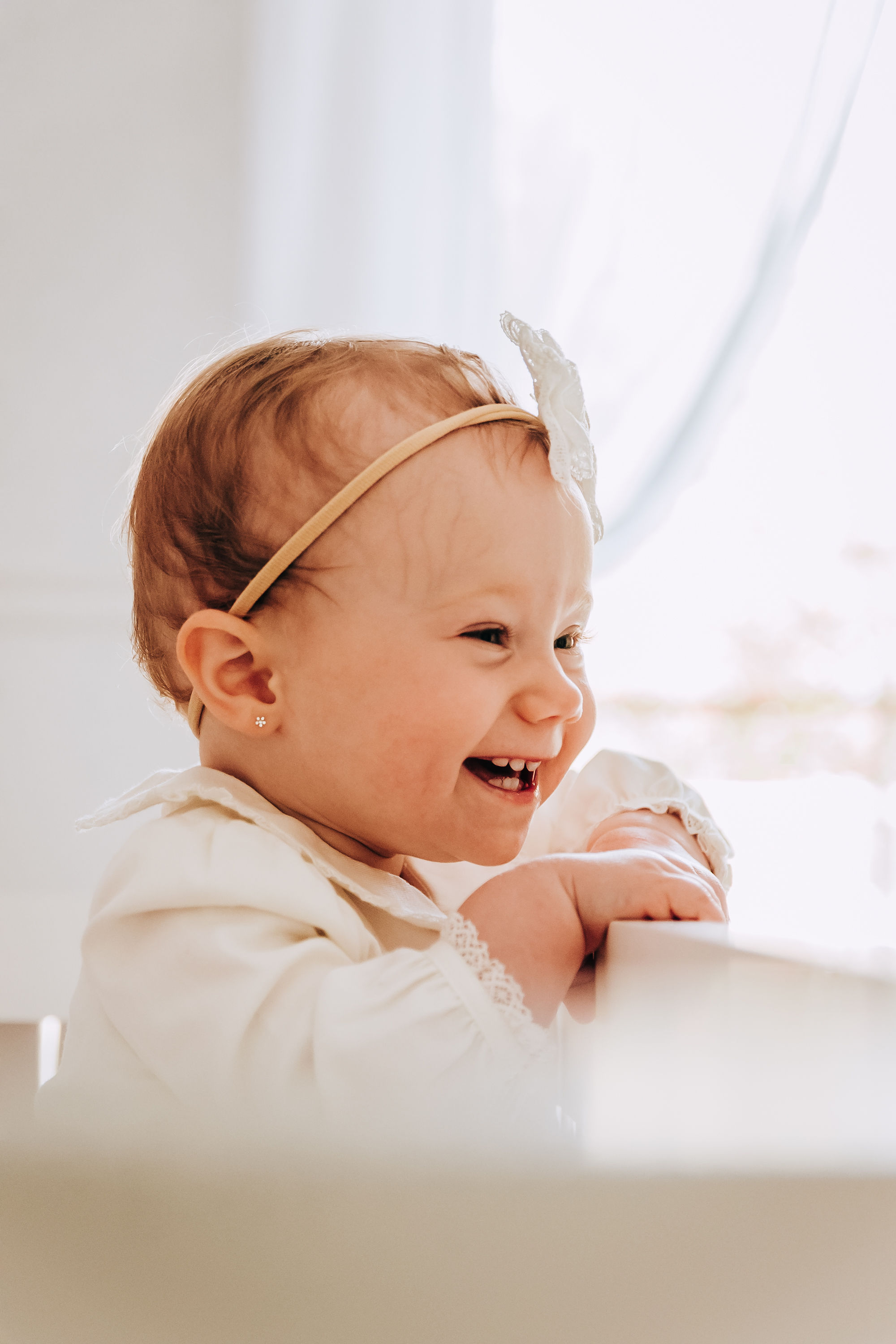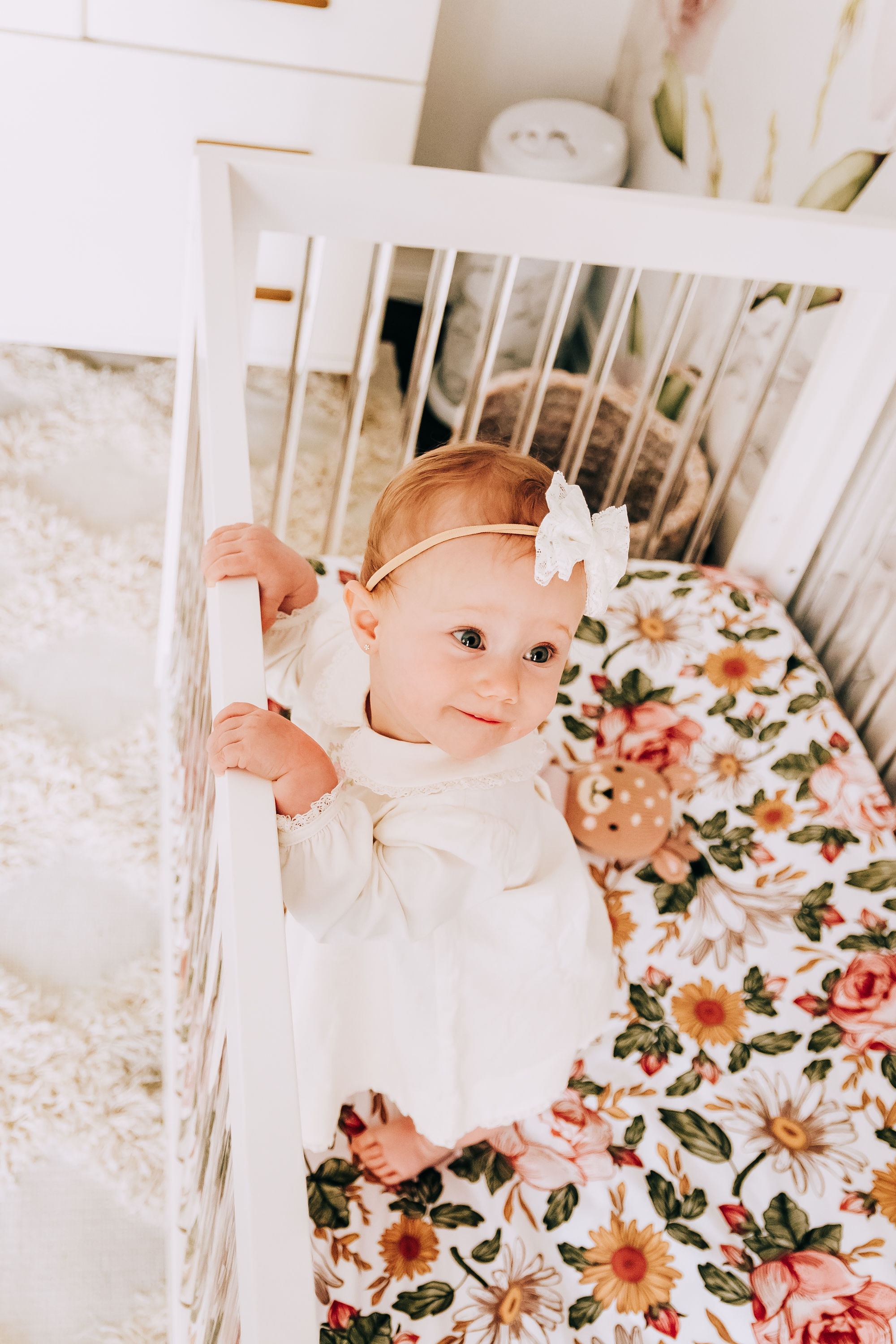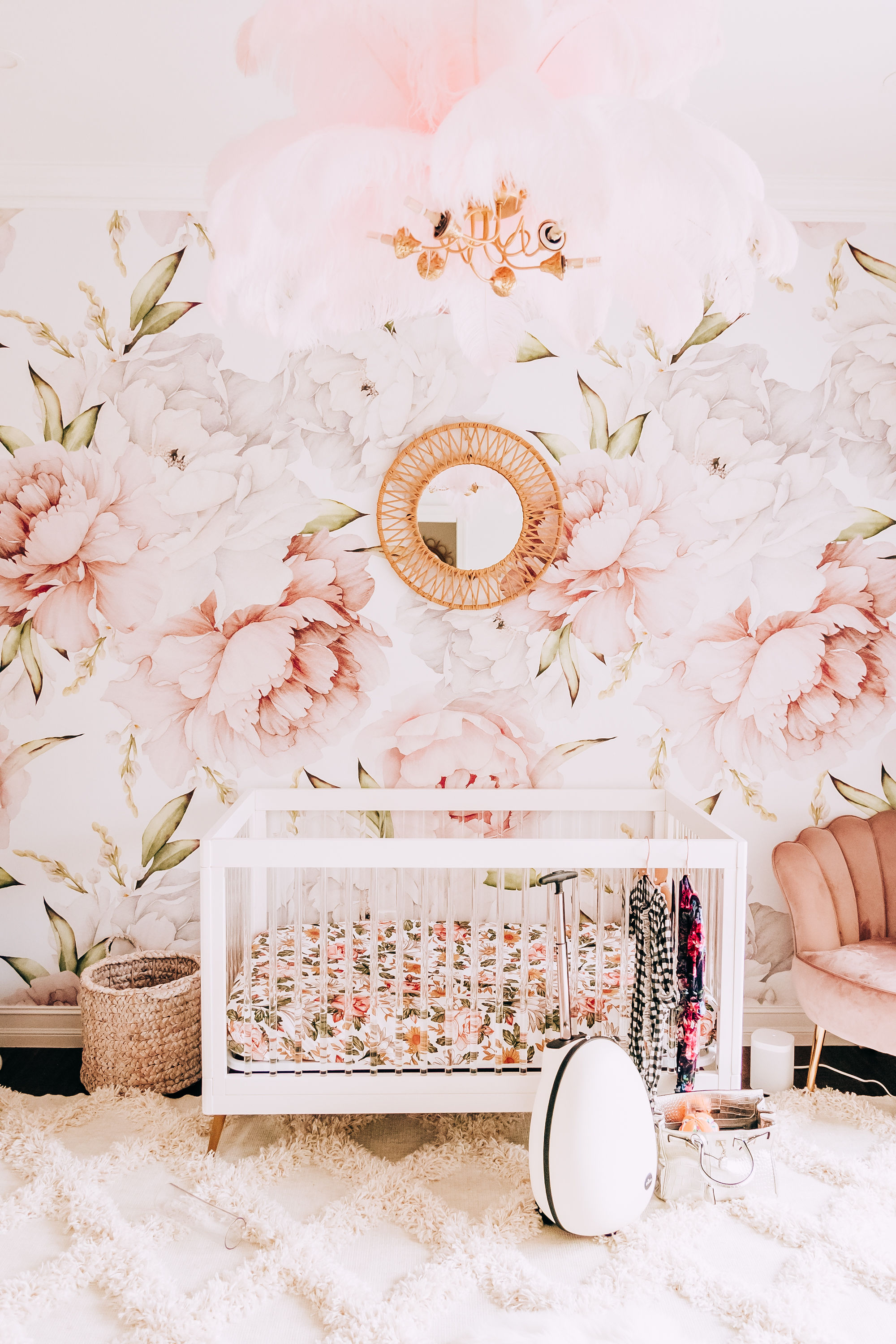 Now we had all the main elements to the room, the one item I could not decide on was the chair! I took it to vote on Instagram and everyone told me to buy a rocking chair. But a part of me could not envision a rocking chair in such a delicate nursery. Sarah found me the most perfect chair!!! I love it – it is so comfortable, art deco and modern all at once! I love I and love nursing Bria to sleep in it!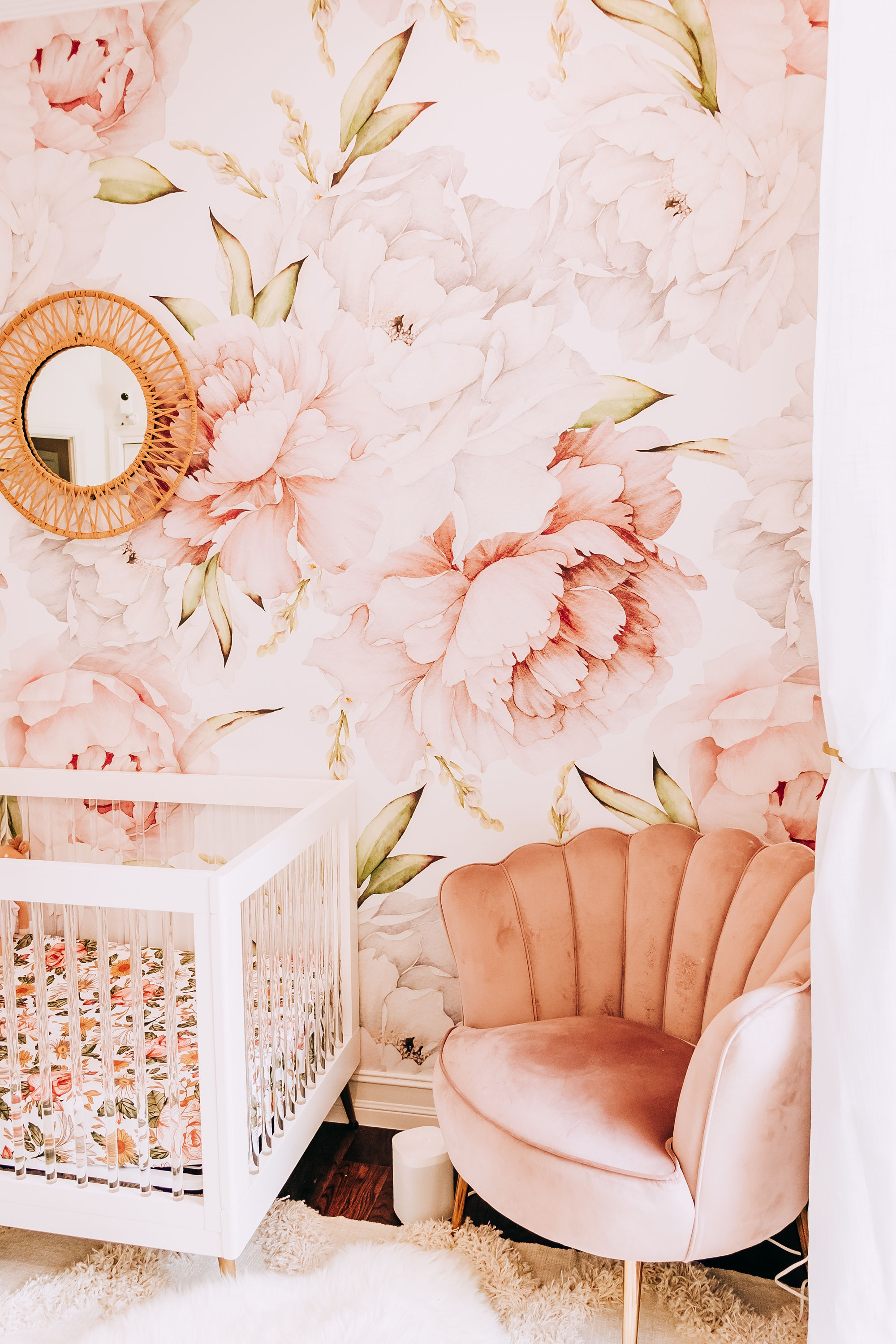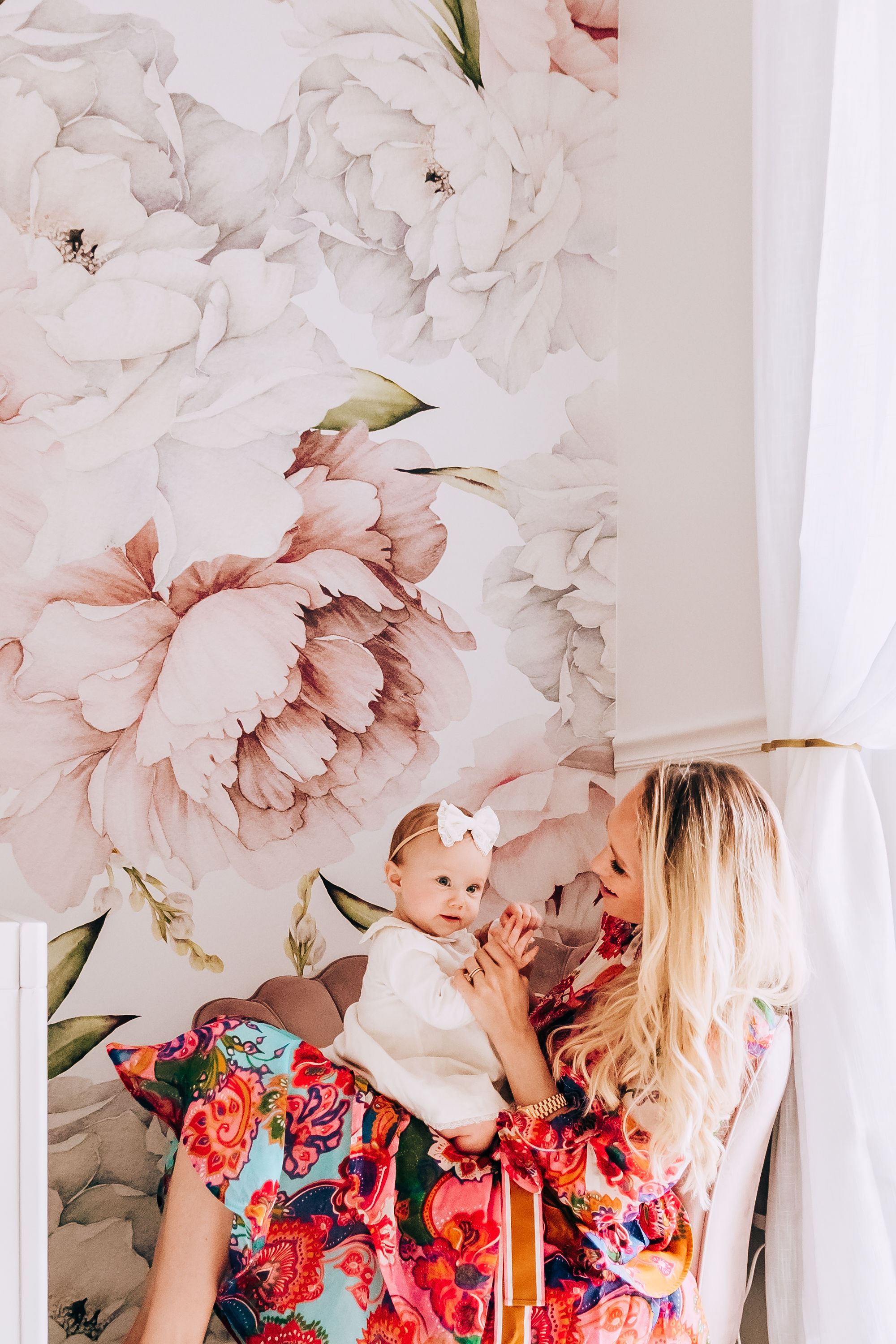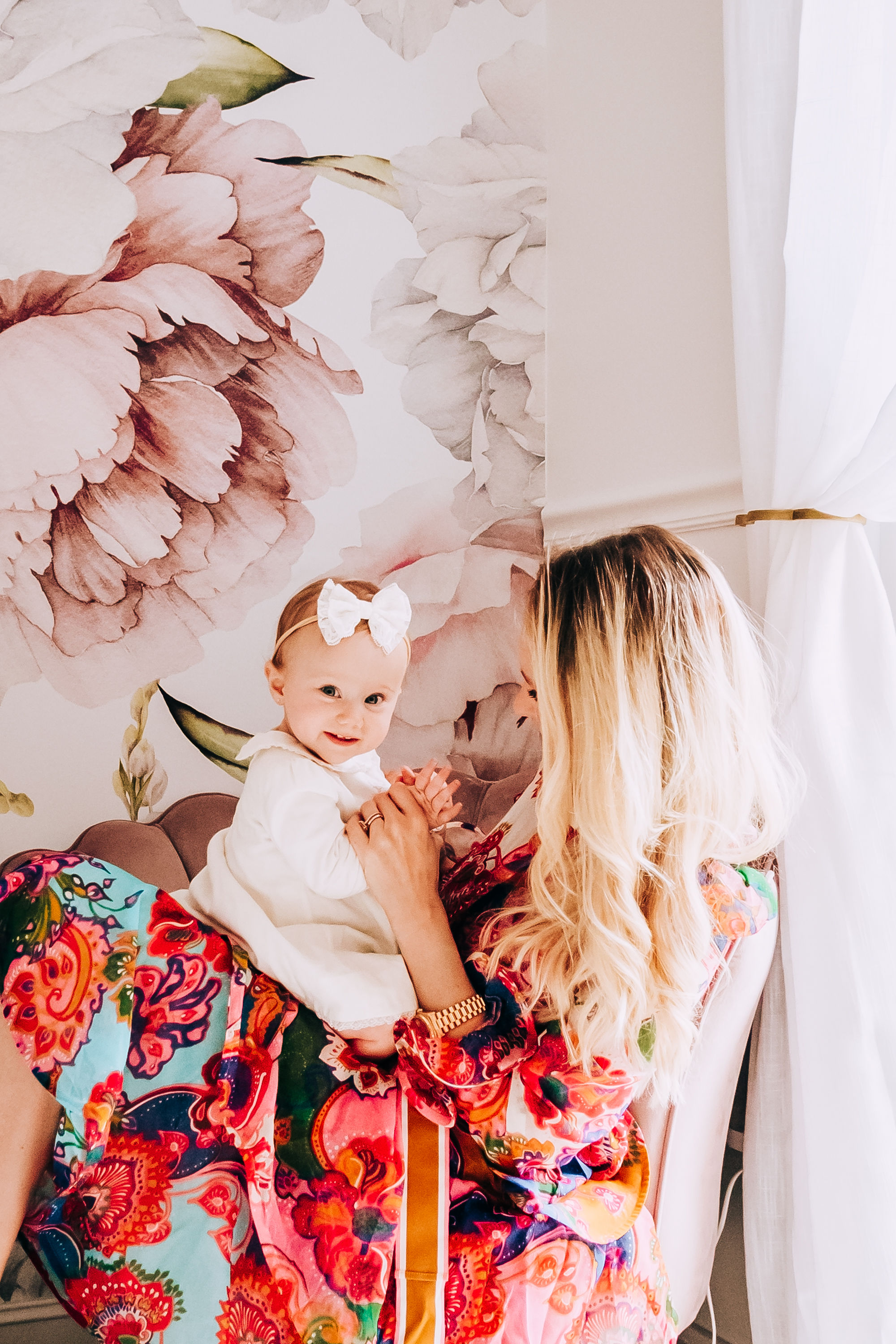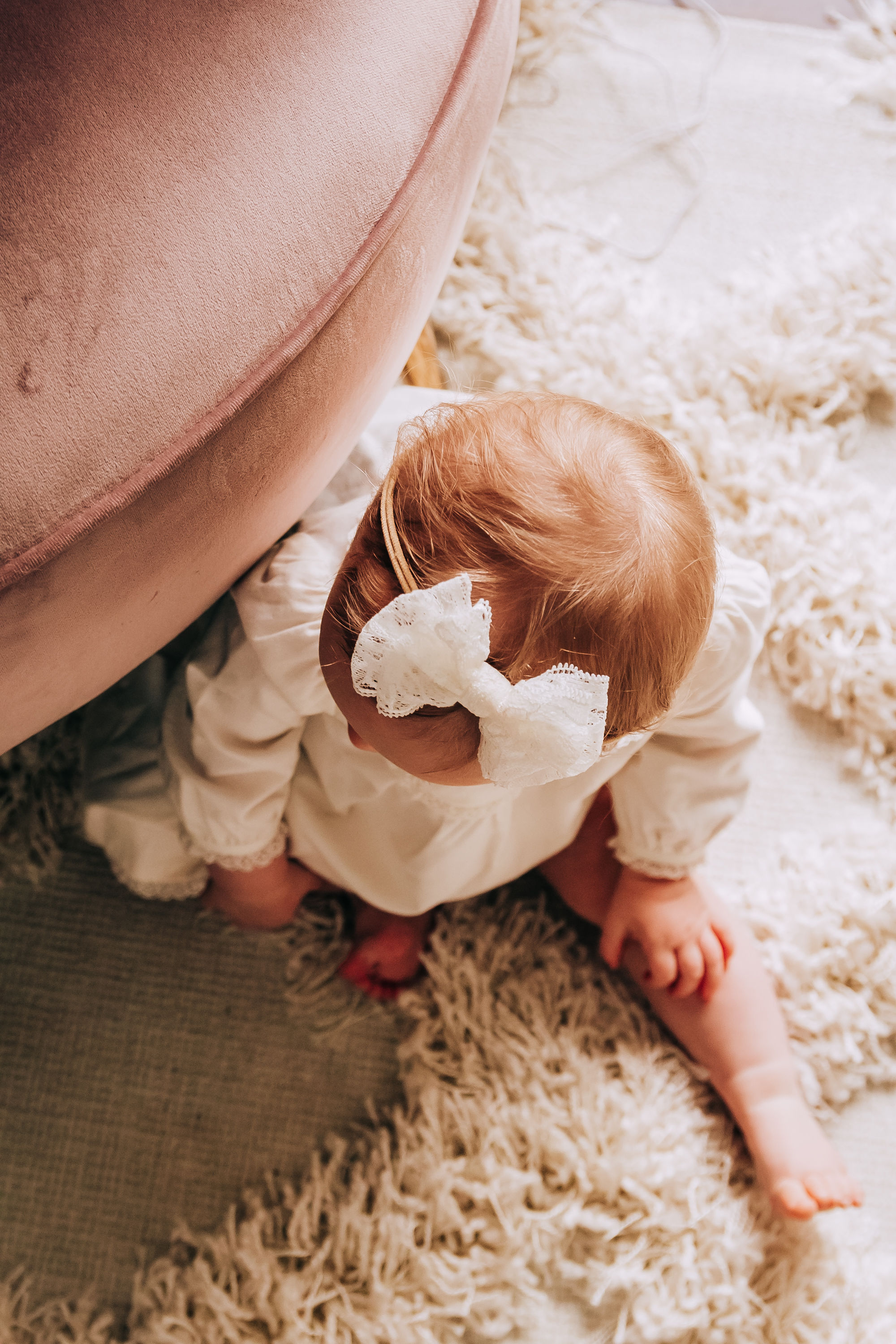 Next, I went on the hunt for a vintage Hermes scarf to hang as the art for the nursery. I stumbled across this beautiful pink one that kept with the circle theme of the mirror and the vanity. If you do buy a vintage designer scarf to frame, please go to a professional Yes, you might be able to do it yourself, but it will never be 100% perfect as the steam and expertly stretch it out to fit the frame exactly.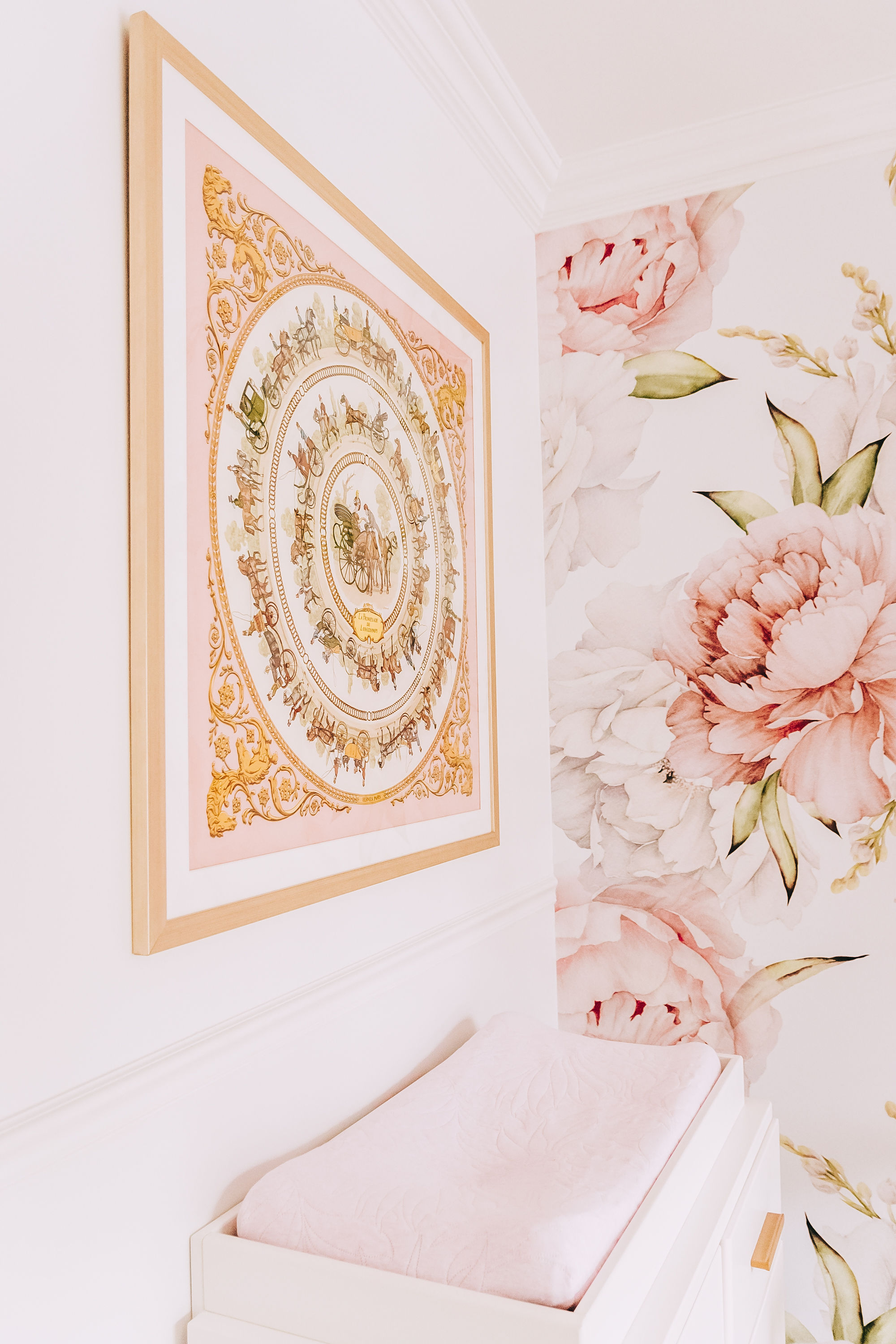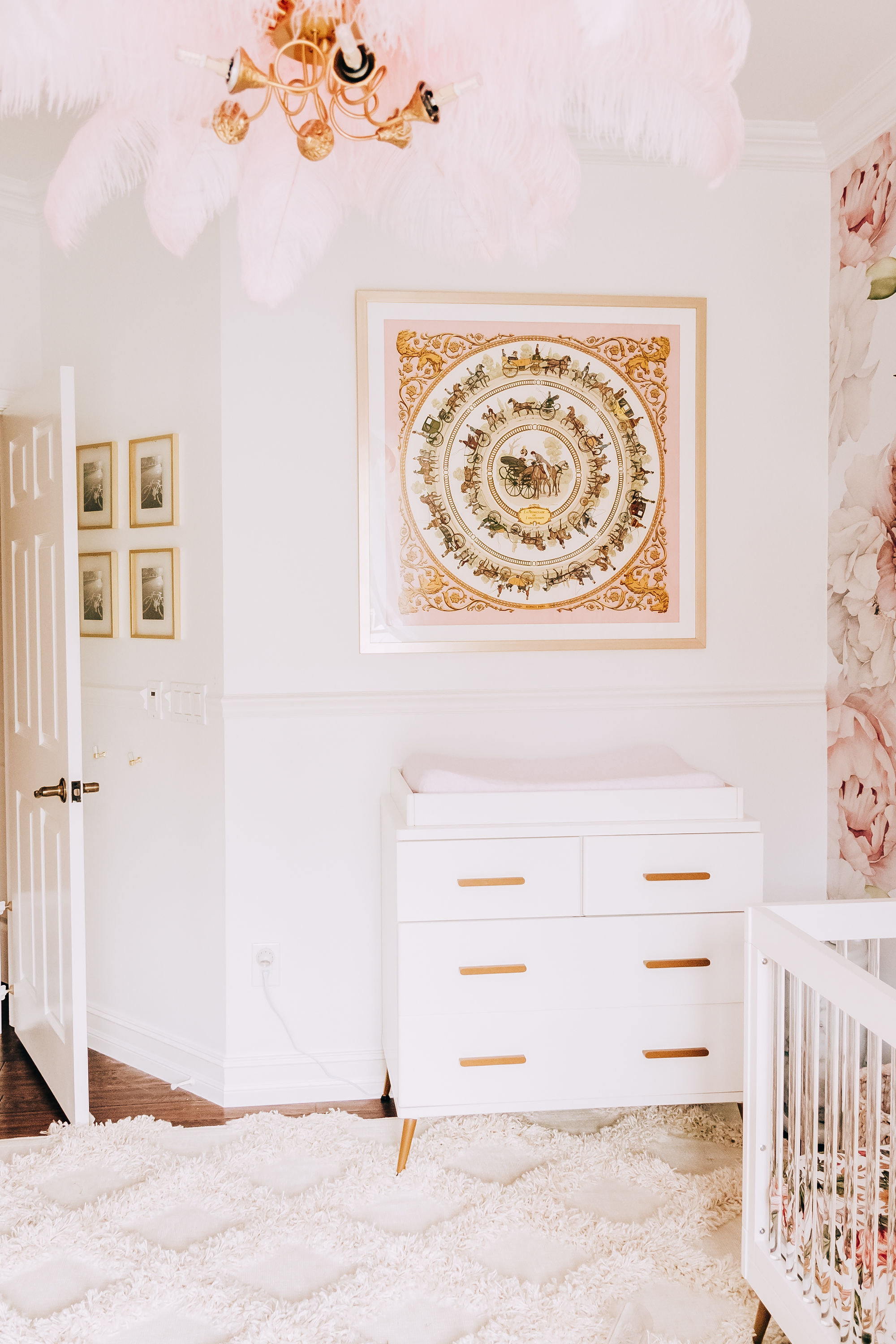 Somehow, each piece came together so perfectly. The round rattan mirror above the crib matched the round mirror on the vanity, which complimented the round design on the Hermes scarf. It all came together so perfectly!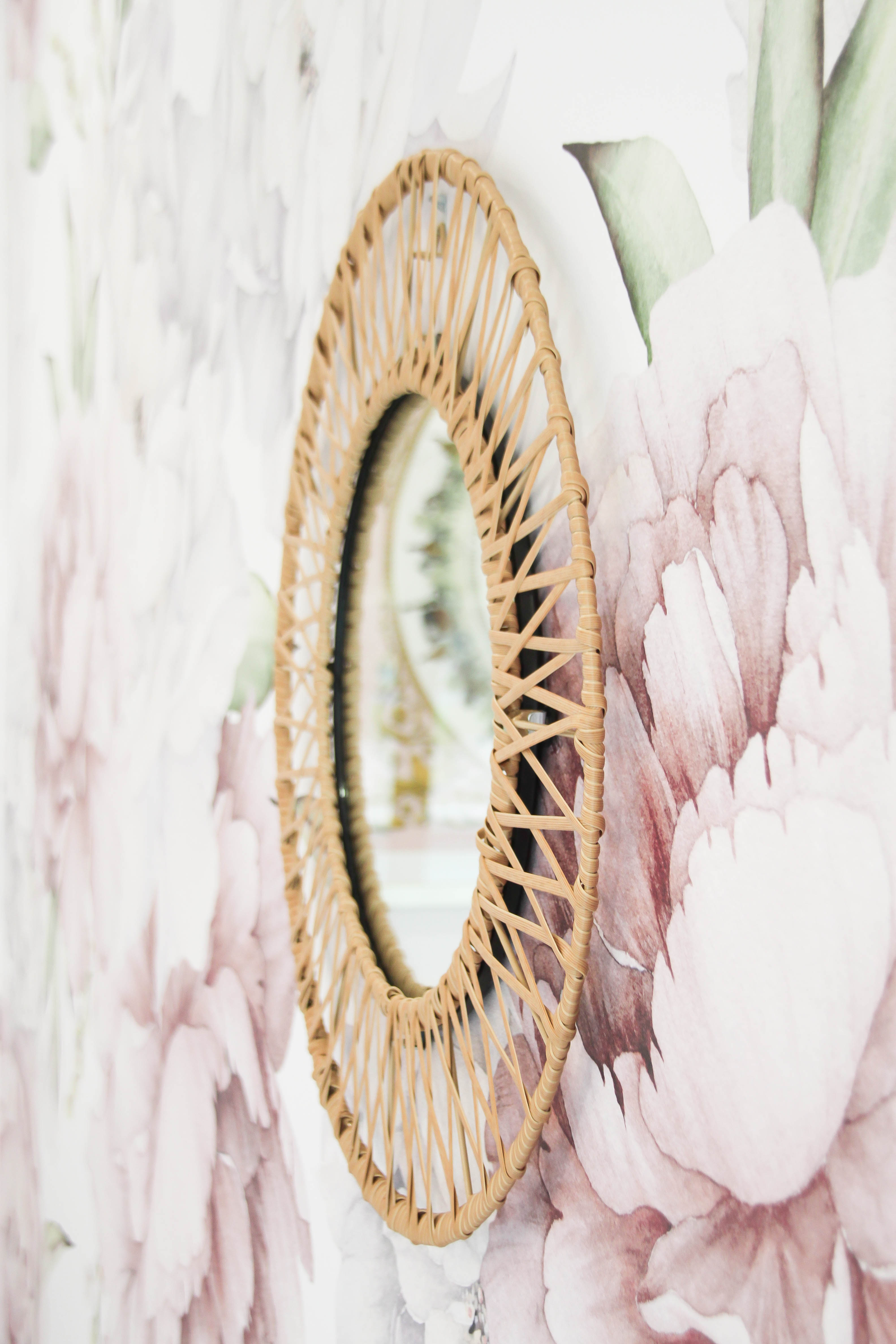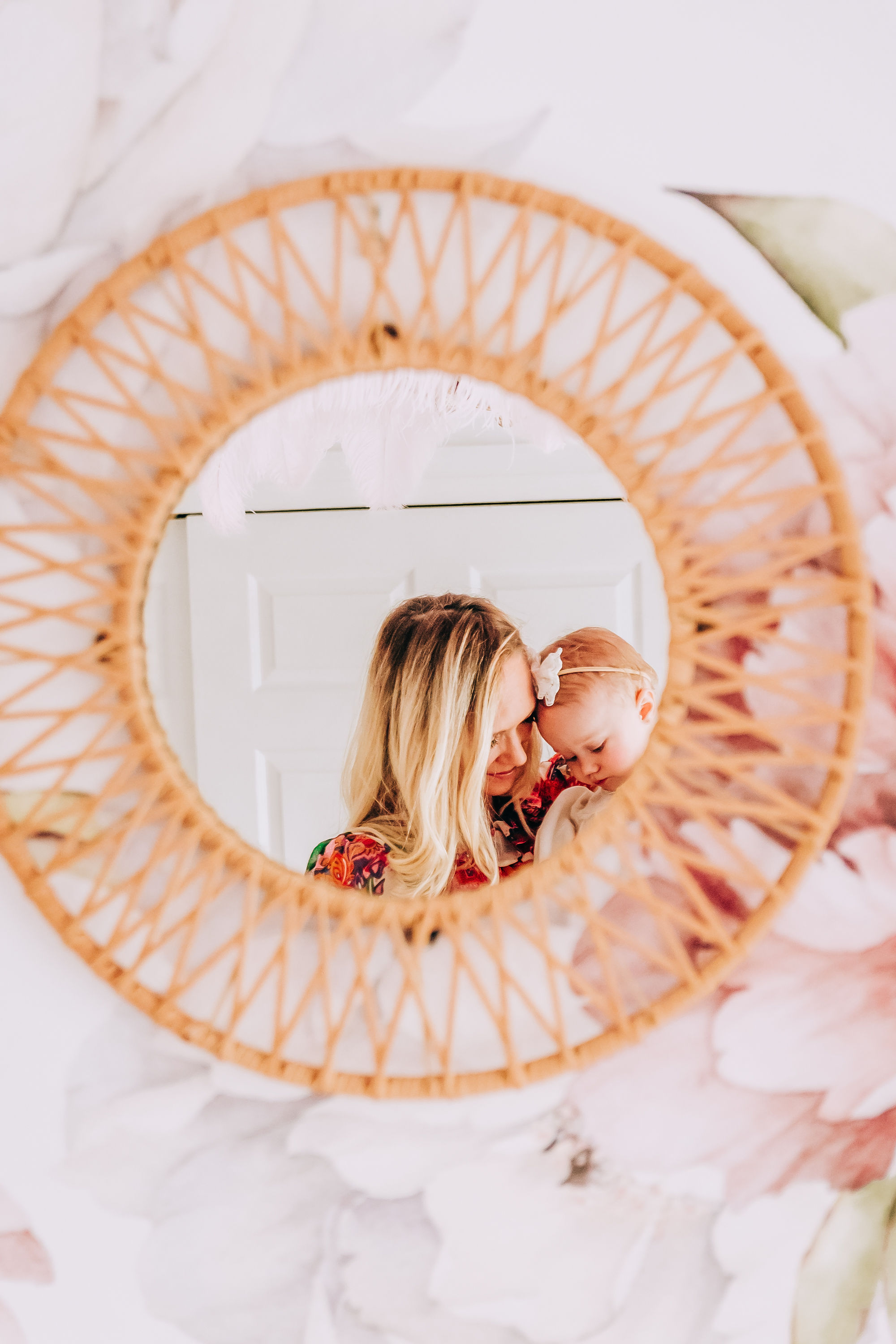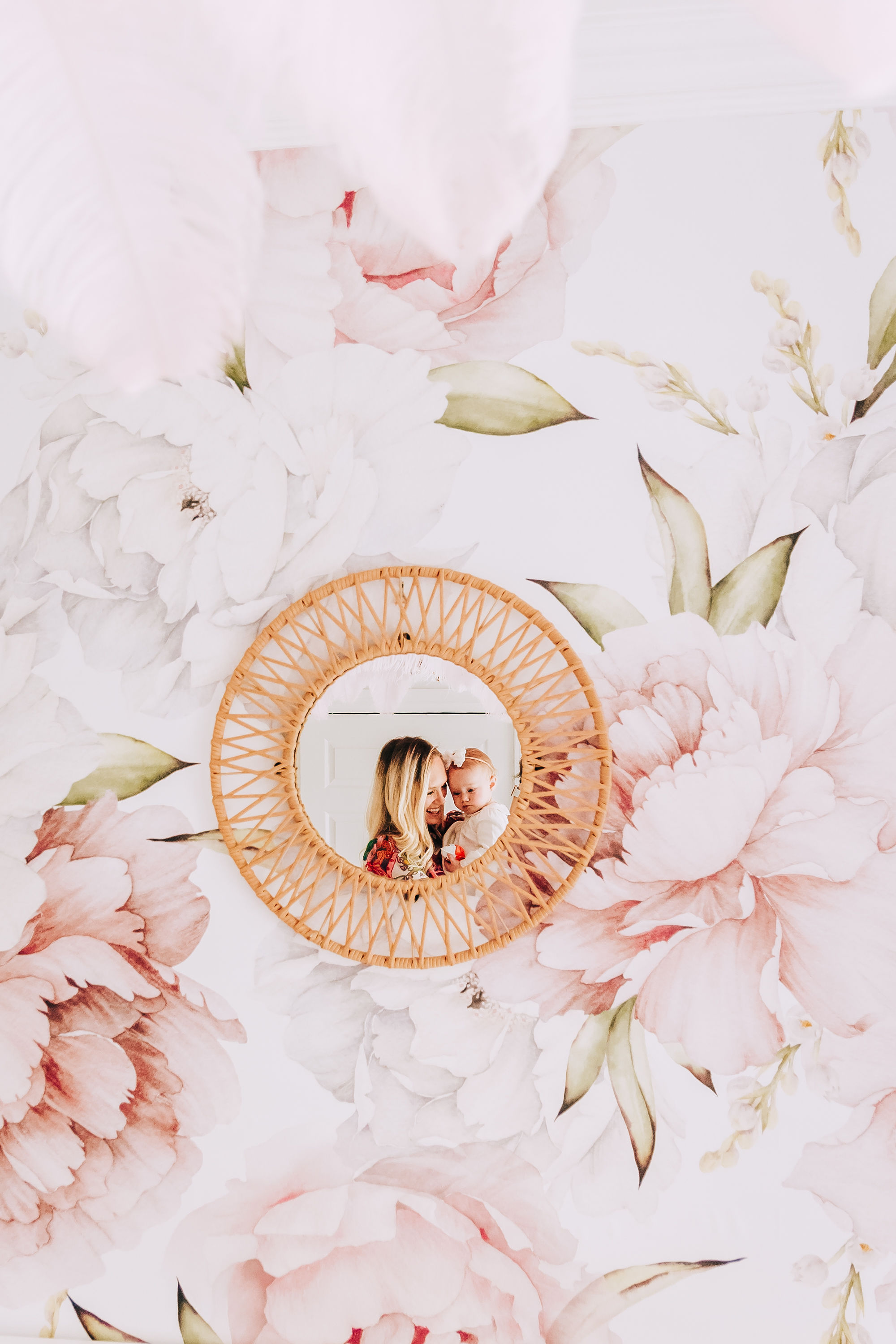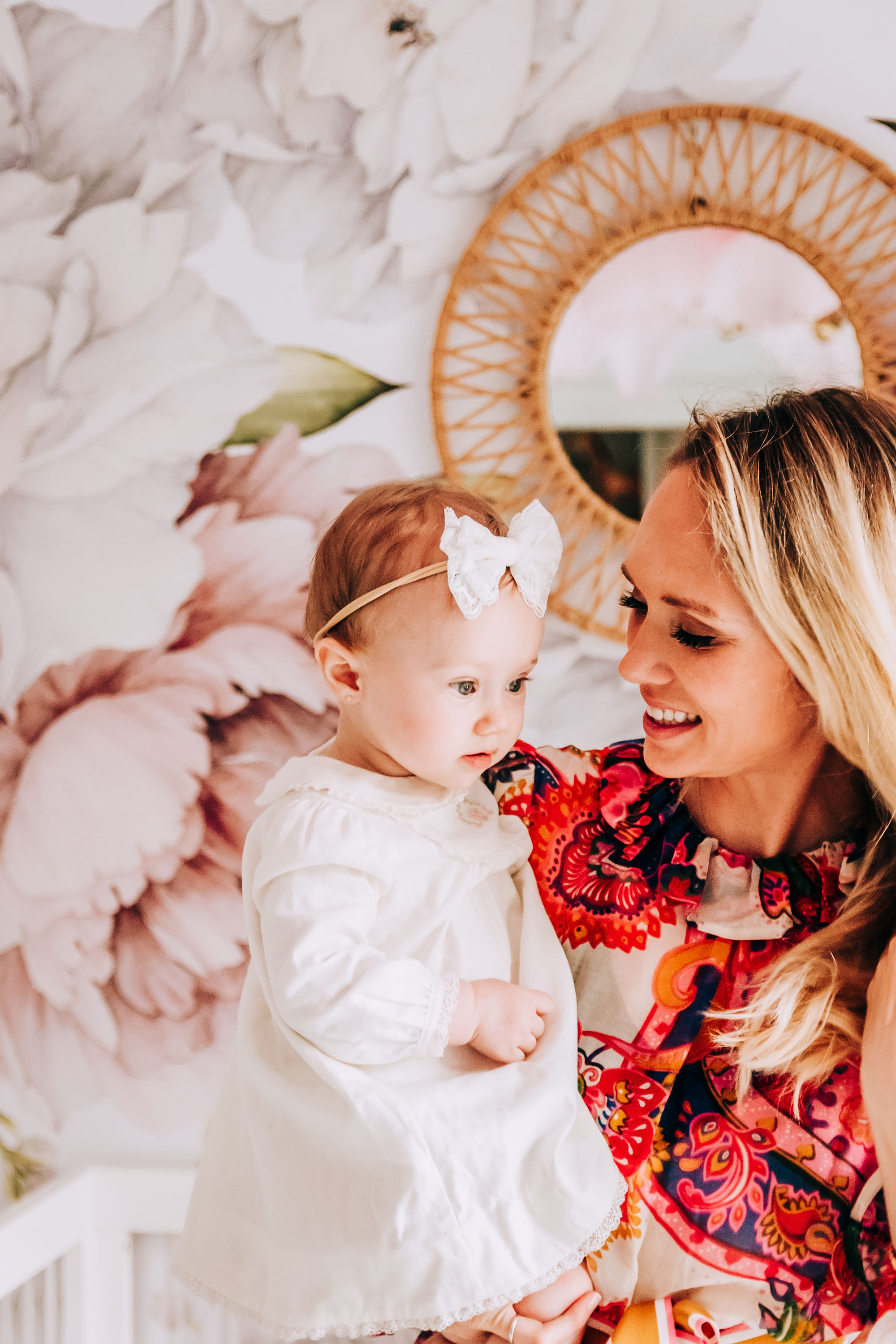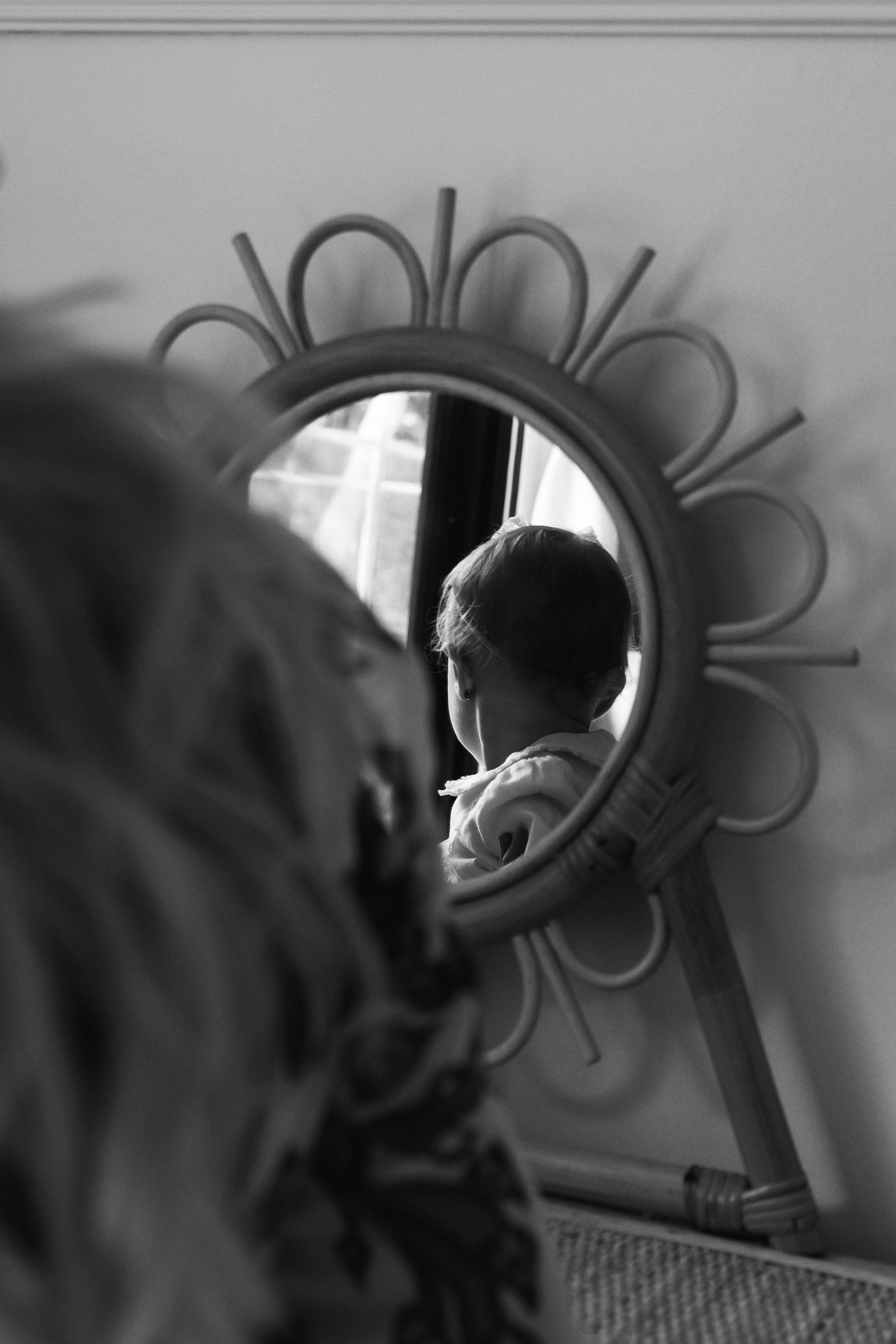 Fun fact - the mirror on Bria's vanity came slightly broken, so I repurposed it in her toy closet!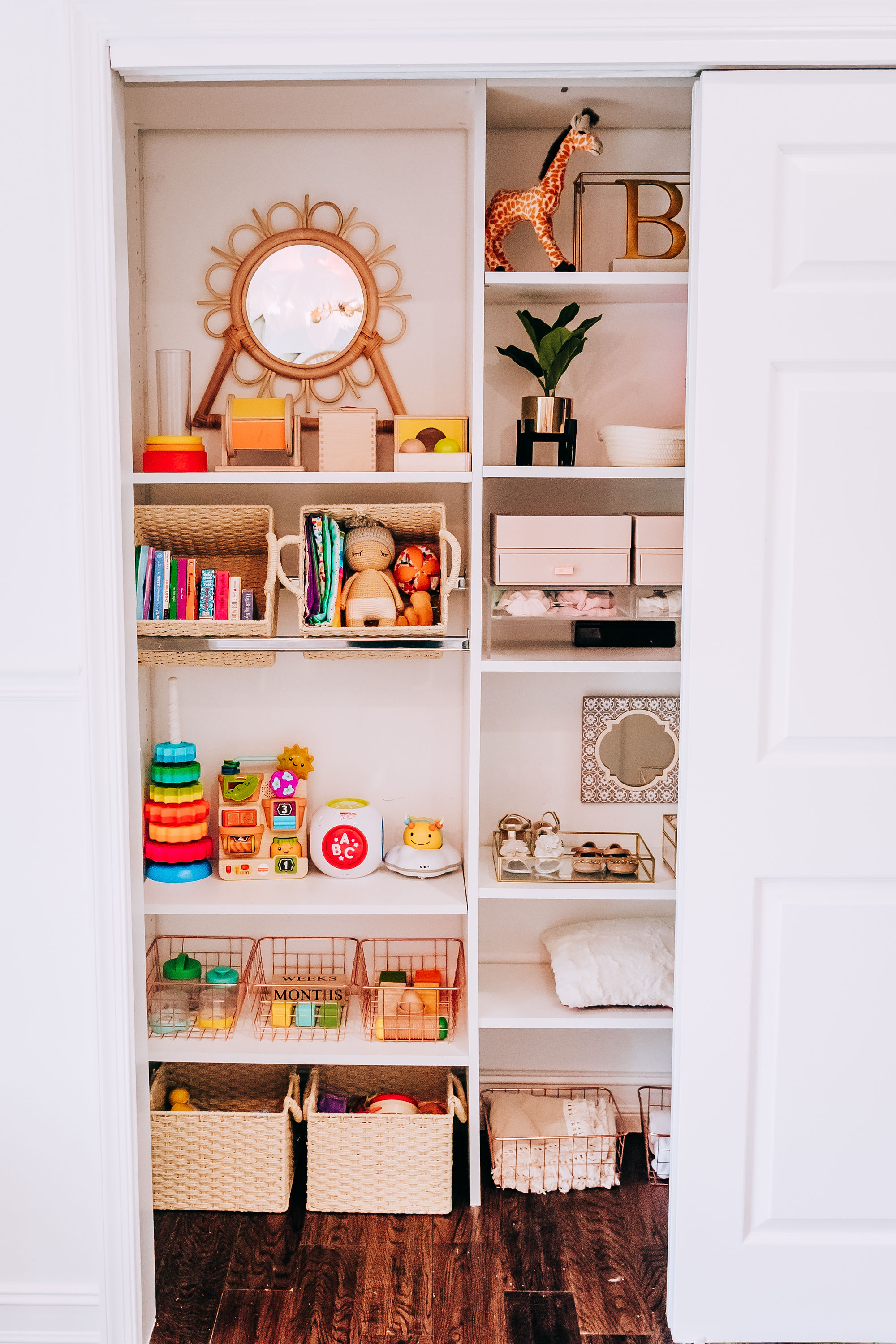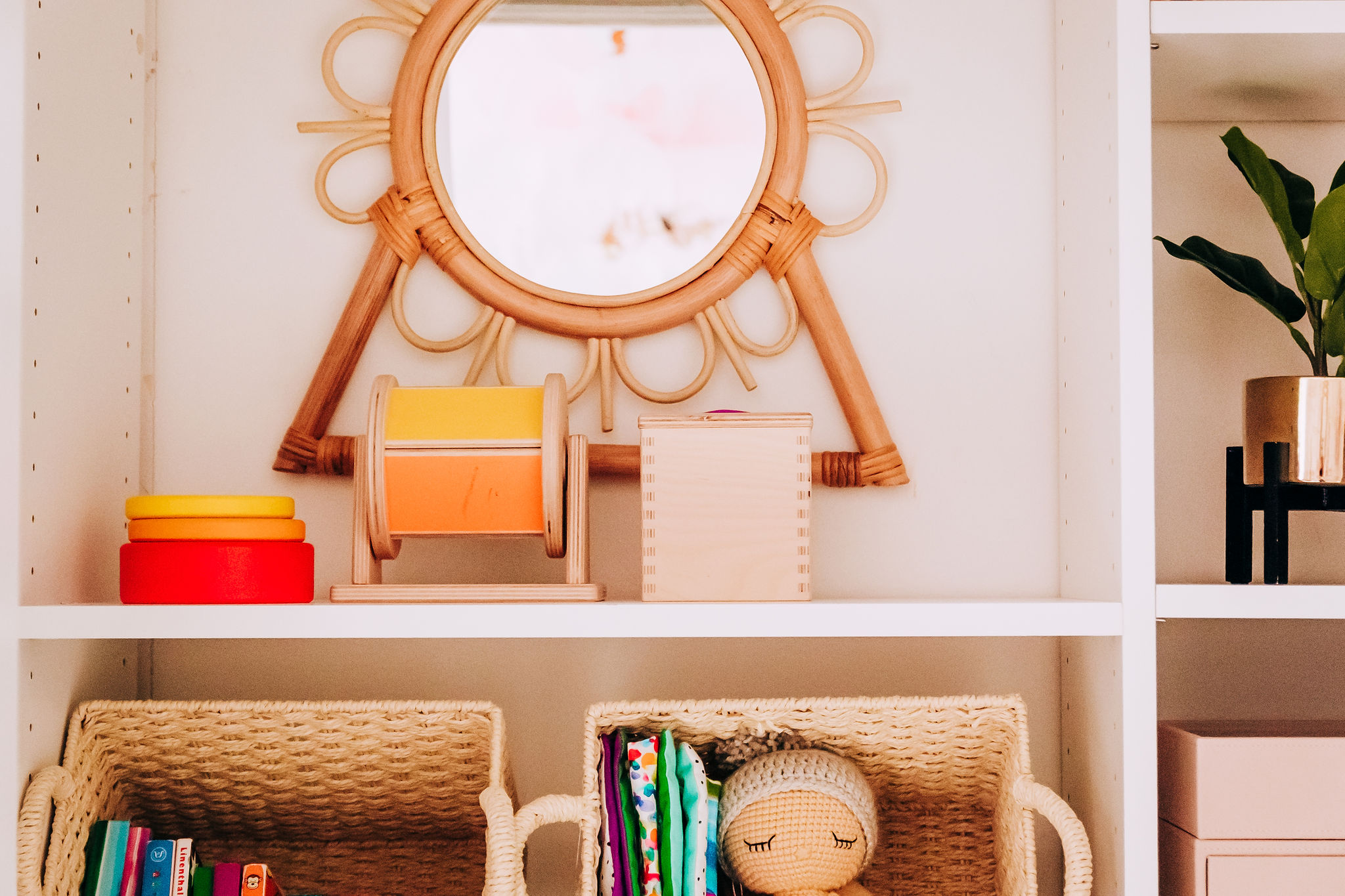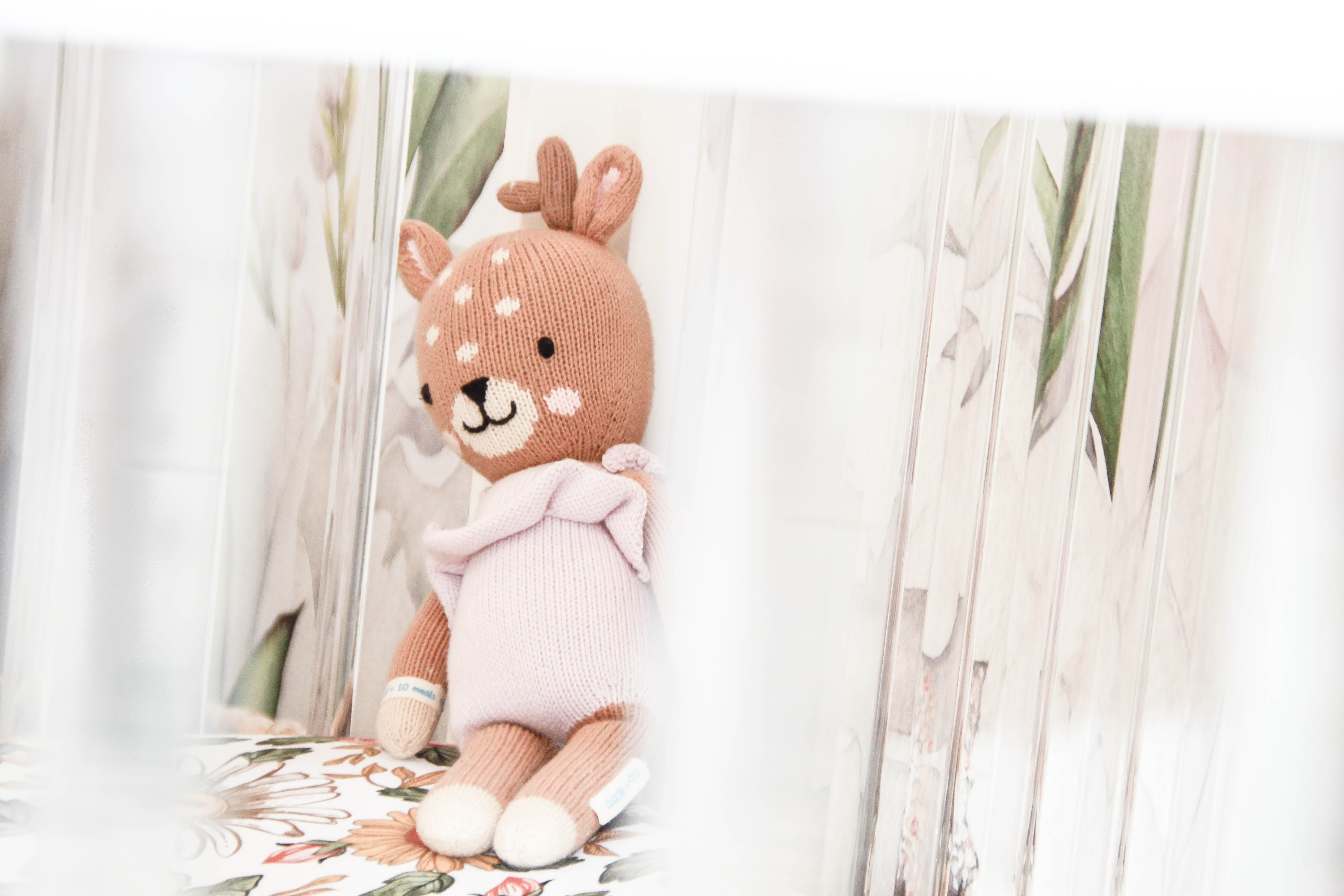 But my favorite part of the nursery is the custom black out blinds that were installed, because that's what allows Bria to sleep in here! It gets sooo dark in the room and Bria sleeps amazing (when she's not teething!). If your considering between blackout shads of curtains, opt for roller shades from an expert who knows how to install them with a channel on both sides, so ZERO light gets in!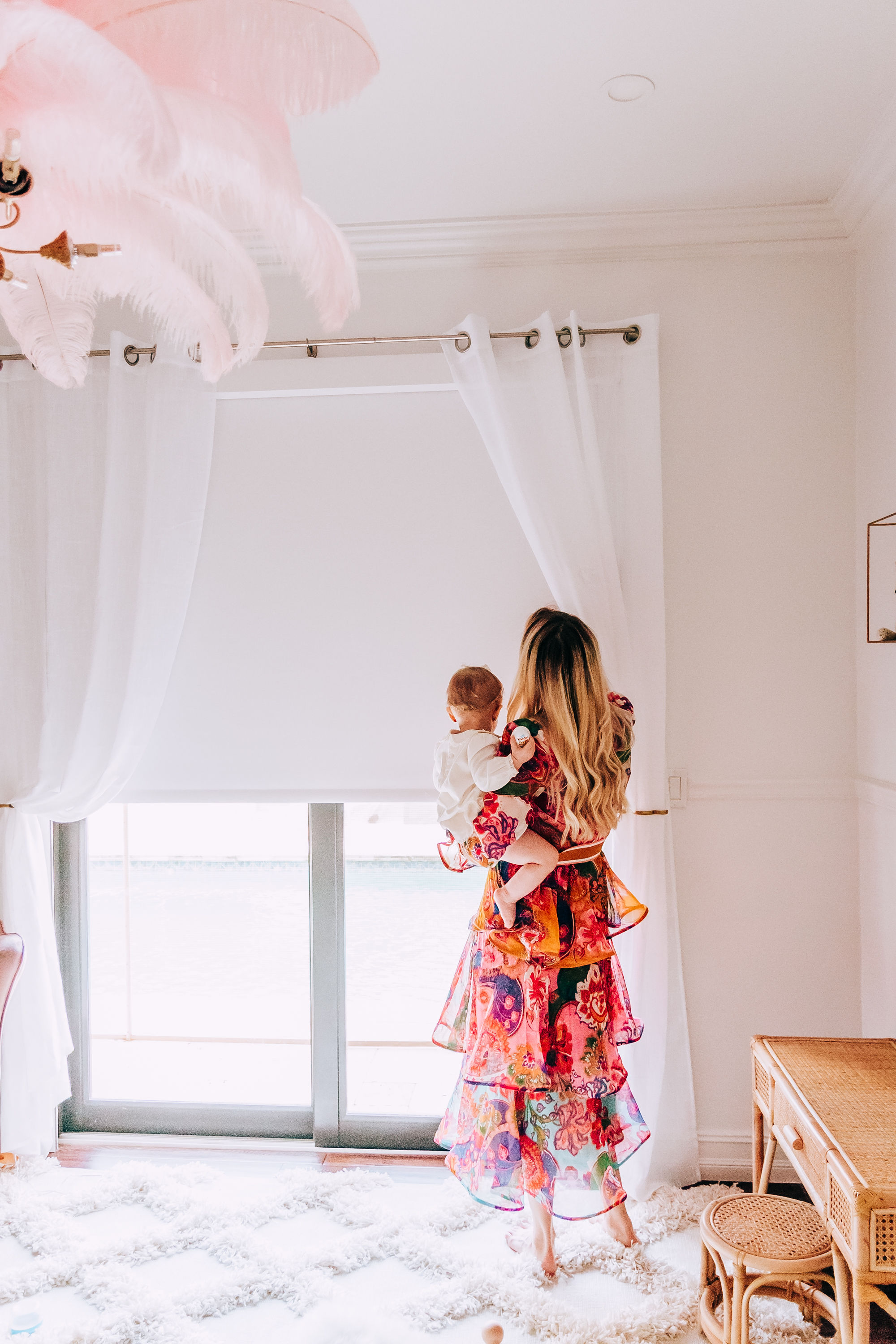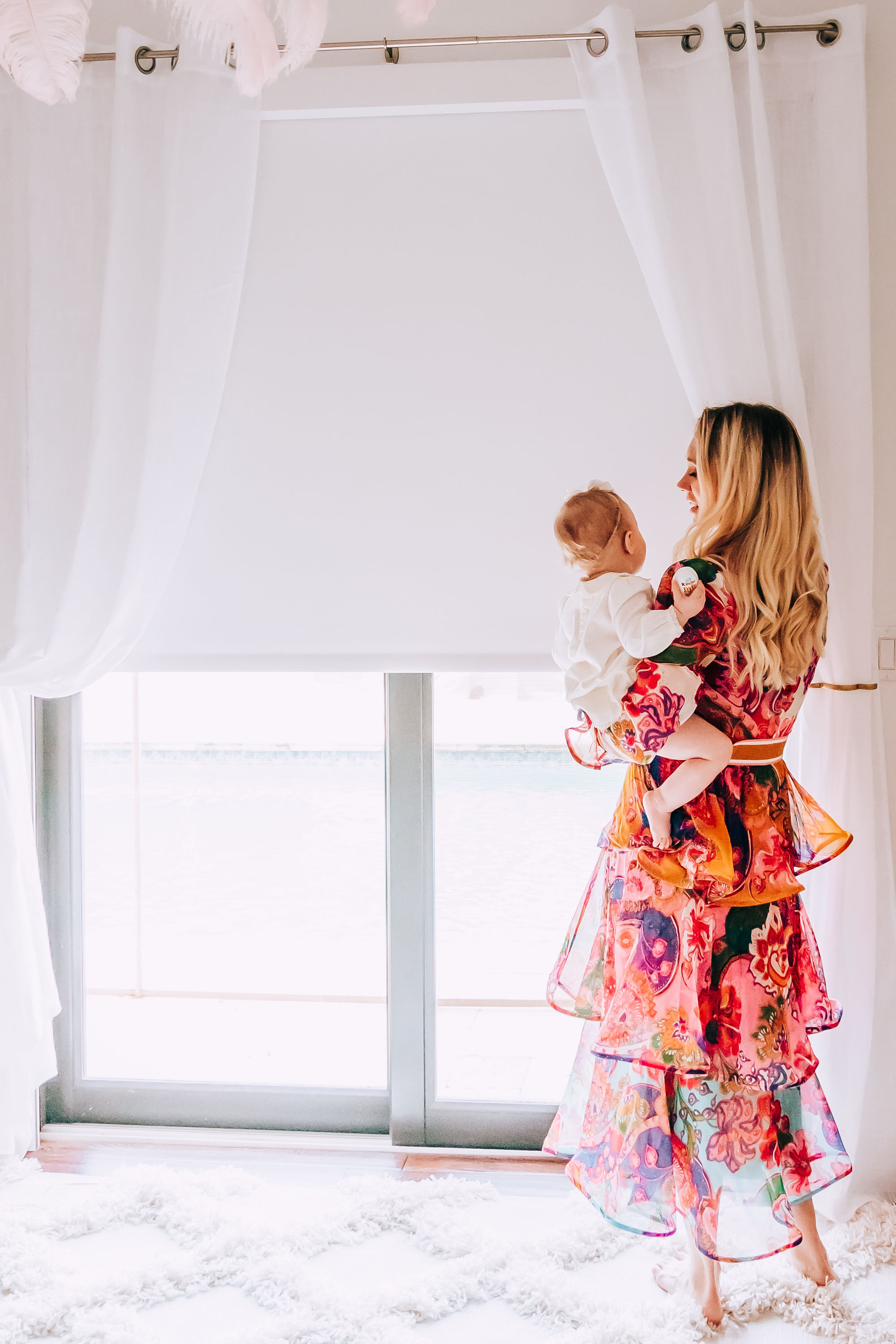 And of course, all this designing got my creative juices flowing. I decided that I wanted a signature scent for Bria's nursery. After a lot of research, I and developed with an amazing company a line of reed diffusers for nurseries! Hypoallergic and pure, the first two we have launched smell so good! And of course because it is Boca Baby, You can customize the bottle to match your nursery!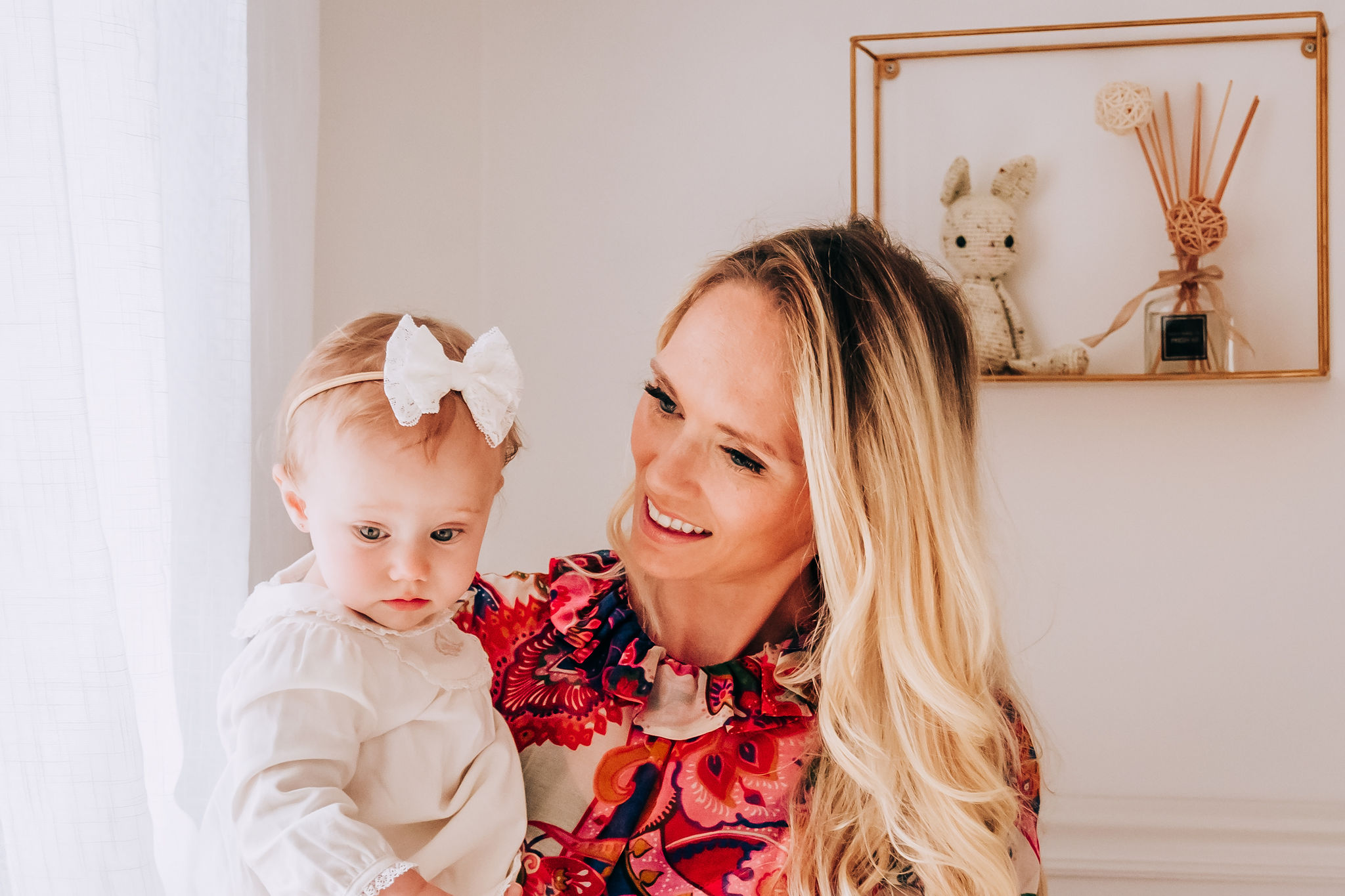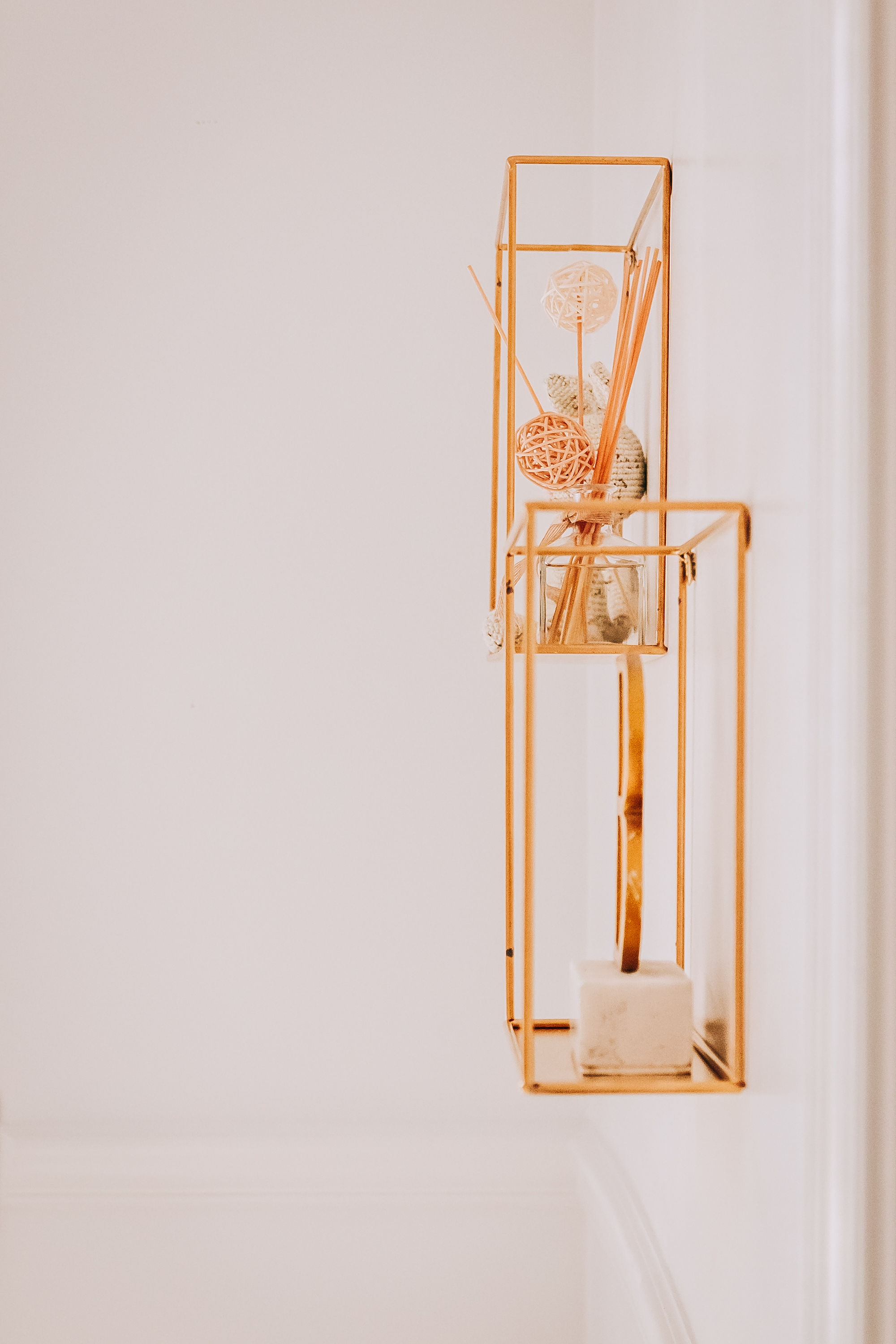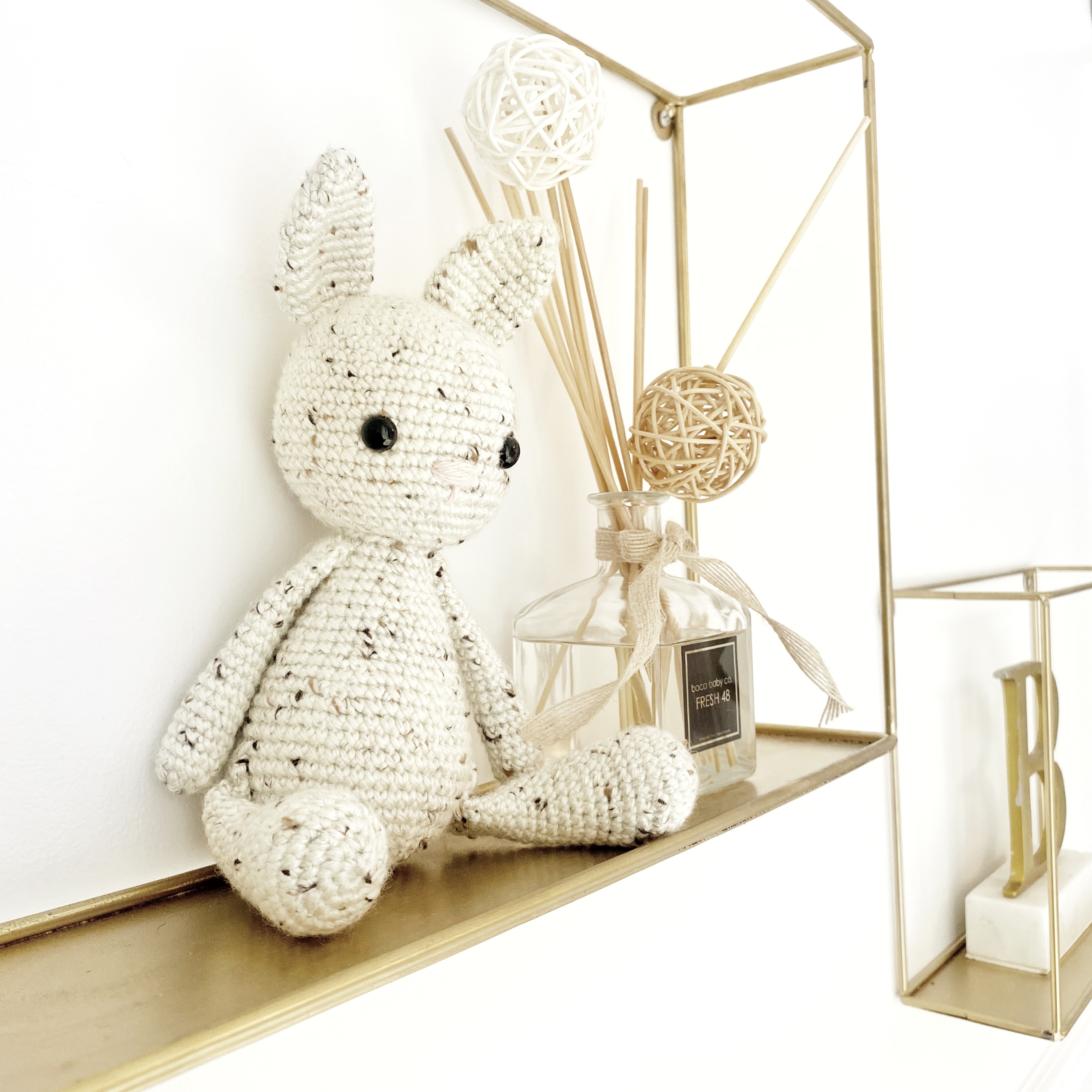 Every time I walk in the nursery, I feel like it is a full experience. The scent we have currently is FRESH 48 - paying homage to the Fresh 48 session which is doing within the first 48 hours after a baby is born.
Bria was born at the start of the pandemic, so there was no professional Fresh 48 session - just me and my camera and my baby girl in hospital This fragrance reminds me of those first precious moments with my sweet baby girl.
Here is a linked list of all the items in Bria's nursery! If you have any questions, please feel free to reach out!
Items:
Mirror – Home Depot
Chandelier – Featherly Co
Acrylic Crib – Delta Children
Matching Dresser – Delta Children
Velvet Barrel Chair - Wayfair
Bedding - Wayfair
Sheepskin Rug – Overlander
Room Rug – Wayfair
Rug Pad – Amazon
Sheer Curtains – Amazon
Curtain Cloud Tiebacks – Anthropologie
Vintage Hermes Scarf – The Real Real
Shadow Box Shelves – Amazon
Nursery Reed Diffuser – Boca Baby Co.
Vanity & Stool – Ellieandbecks Co.
Small Gold Frames – Target
Laundry Basket – Target
Rattan Toy Baskets - Target
Wire Rose Gold Baskets - Walmart (sold out online but in stock in stores in the kitchen organizing section!)
Services:
Interior Designer - Sarah Geller
Wallpaper Designers - Sur La Mur
Wallpaper Install - Ricky: 878-231-1319
Blackout Blinds – Blinds Pro
Scarf Framers – Gallery Framers, Boca Raton FL ( Ship all over the USA)
Photography - Kim Bebee Photography

Outfits:
Ayala's Dress - Pink Label NY
Bria's Dress - Ralph Lauren
Bria's Headband - Amazon